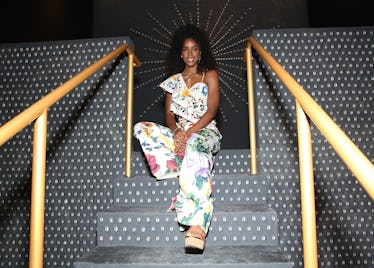 Kelly Rowland Reveals The Important Lesson Beyoncé's Mom Taught Her About Beauty — EXCLUSIVE
Robin Marchant/Getty Images Entertainment/Getty Images
If there's one woman who would know all about the importance of girl power, then it would be none other than the iconic Kelly Rowland. Making her way into the spotlight in the early '90s with the group Girl's Tyme, then creating some of the most empowering songs of all time alongside Beyoncé and Michelle Williams as Destiny's Child years later, Rowland had a lengthy road to becoming the confident woman she is now, especially during a time when society wasn't exactly embracing inclusivity. Speaking to Elite Daily recently, Rowland reveals the lesson Beyoncé's mom taught her about beauty and self-love way back when that helped change the way she saw herself, as well as how Rowland herself plans to pass that confidence along to other women.
Recently joining T.J.Maxx's Maxx You Project, Rowland's partnership with the brand was a natural fit. And the 37-year-old aims to continue pushing the initiative's message of "women embracing our individuality" forward.
"Everybody is born different, everybody is unique, everybody is going to have a different style," Rowland tells Elite Daily over the phone. "I think the best way you can think about that is something as simple as your fingerprint. There's only one you, and I think that we have to celebrate that and be comfortable in that. Because the world would be so freaking boring if we all looked alike, all sounded the same, all did the same thing."
While she's comfortable in her own skin now, the mother-of-one reveals that her own journey to self-acceptance wasn't an easy road, especially since she rose to prominence during the late '90s and early 2000s — a time when black women, especially those with deeper complexions, did not have a lot of representation in the media. At that point, inclusivity was a word seldom heard in the beauty conversation.
"I can't even front — it was hard," she confesses. "It was hard because I watched other people take to someone that was more fair than I, and that definitely hurt for a little bit."
The ugliness of colorism affected the singer in her personal life as well. Sharing a story of when she was on a trip to Jamaica, Rowland remembers that, before going into the sun, she tried covering her face to avoid getting a tan. But Beyoncé's mom, Tina Knowles, quickly stepped in to teach her an important lesson about beauty and self-love that she will likely never forget.
"[Ms. Tina] said, 'Baby, oh my gosh do you know how lucky you are? Think about the art in my house,'" Rowland reminisces, sharing that Knowles owns an extensive black art collection. "She was like, 'Embrace everything about being black because it is a beautiful thing. We are so blessed to be black. There are so many variations and colors of us, and that's what makes us so beautiful, baby. You represent for all the brown girls out there, so you gotta trust that and be proud of it.'"
Then, a chance encounter with a fan put everything into perspective for Rowland. "She [the fan] said 'Oh my God, you look like me and I've loved you. When we play Destiny's Child, I pretend that I'm you," Rowland recalls. "The more I heard that, the more I felt a responsibility, like 'I'm repping for the brown girls, and I gotta do this right.'"
To help instill this sense of confidence in other women, Rowland will be heading down to New York City on Sept. 20, to host an in-person workshop for The Maxx You Project. Women interested in attending can head over to maxxyouproject.com until Sept. 9 to enter for a chance to take part in the event.
Now in its second year, The Maxx You Project is also becoming more accessible for all, as T.J.Maxx has created an online community on Facebook, and is launching The Maxx You Project How To online series in partnership with Rowland. The digital-focused courses will feature various curated classes, taught by experts, to help women overcome their biggest challenges when it comes to self-esteem.
But while the Grammy winner has come a long way on her journey — confessing that she's stripping away hair pieces to embrace her natural afro, and swapping nail extensions for a basic manicure — she admits that she still has her "struggle" days from time-to-time. Though, it's nothing a little sprucing up can't fix. "After my red lip, I wish you would tell me that I wasn't cute, please chile," she jokes. "Not with my brows and my concealer and my red lip on!"
As a woman who has been in the spotlight for nearly 30 years, both before and after the internet took over, what advice would Rowland give to girls growing up in 2018? Simply to love being themselves.
"No one is going to look like you. Yes, you could be similar in complexion or in facial shape or structure, but don't go changing everything to look like someone else," she says. "There's a reason why God invented you."
I couldn't agree more.