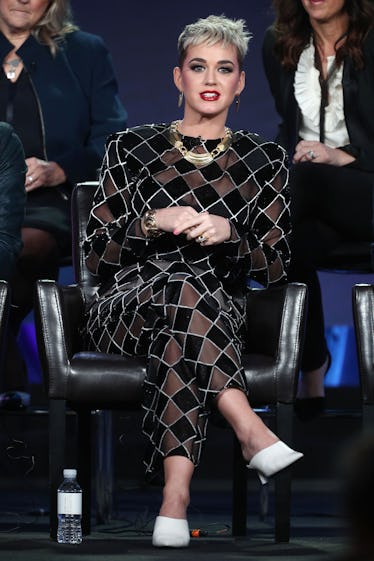 People Are Pissed At Katy Perry After Her Controversial Kiss On 'American Idol'
Frederick M. Brown/Getty Images Entertainment/Getty Images
If you've watched a single episode of American Idol since Katy Perry joined on as a host, you know that she can get really quirky and way out of hand; but it's usually in harmless fun. (Or at least that's what I tell myself so I can keep watching without feeling guilty.) However, on March 11, something bad happened that I'm not OK with. Something that many of us are not OK with. Katy Perry kissed an American Idol contestant without his consent, and fans are outraged, hurt, and seriously uncomfortable.
It all started when Benjamin Glaze, a 19-year-old from Oklahoma, visited the show to perform his penned single "Stadium," according to The New York Times. Right before his audition, he chatted with the panel about his job as a cashier, which he says allows him to meet lots of "cute girls." Fellow judge Luke Bryan then asked Glaze if he'd ever "kissed a girl and liked it" (a reference to Perry's hit single "I Kissed A Girl"), to which Glaze responded, "No, I've never been in a relationship. I can't kiss a girl without being in a relationship." Filled with excitement and shock over Glaze's claim, Perry summoned him to the panel stand before planting an unwanted kiss on him.
Glaze gave the singer a kiss on the cheek, but was asked for another one after he failed to "make the smooch sound." When he tried again, Perry swiftly turned her head and gave him a kiss on the lips, raising her hands triumphantly.
After fans saw the awkward exchange during the show's season premiere, many people called out Perry for what they saw as sexual misconduct.
Days after his audition aired, Glaze told the Times that the moment had made him uncomfortable, though he said that he didn't feel he had been sexually harassed. He said that he'd never been kissed before, and wanted to save the moment for his first relationship. He said, "I was a tad bit uncomfortable. I wanted to save it for my first relationship. I wanted it to be special." He also told the Times that he would have rejected Perry if the "Swish Swish" singer asked him beforehand, saying:
Would I have done it if she said, 'Would you kiss me?' No, I would have said no. ... I know a lot of guys would be like, 'Heck yeah!' But for me, I was raised in a conservative family and I was uncomfortable immediately. I wanted my first kiss to be special.
But later, in a post shared to his Instagram, Glaze stated that his thoughts weren't articulated well in the Times article and insisted that he wasn't complaining about the kiss, reiterating that he did not think he was sexually harassed by the artist. He wrote that he was "not complaining" and that his true intentions were "not accurately represented in every article" about the incident. He went on to say,
I am not complaining about the kiss I am very honored and thankful to be apart of American Idol the main purpose for the show is to find stars and new music artist. I do wish i would have performed better in the moment. I should have picked another song to sing and calmed myself down regardless of the kiss i should have been able to perform under pressure. I do not think i was sexually harassed by Katy Perry and i am thankful for the judges comments and critiques. I was uncomfortable in a sense of how i have never been kissed before and was not expecting it. My main goal is to reach people through the universal love of music and not cause strife or anger against anyone or about any situation!
I'm glad that Glaze doesn't feel violated or upset, but that still doesn't make Perry's actions OK. Let's be real: if the roles were reversed and a male judge smooched a teenage woman without her consent, the situation wouldn't have gone so smoothly. *long sigh*
She seemed thrilled at the casting, to say the least, saying that she was happy to make "dreams come true," according to Variety. Perry said,
I am honored and thrilled to be the first judge bringing back the American Idol tradition of making dreams come true for incredible talents with authentic personalities and real stories. I'm always listening to new music, and love discovering diamonds in the rough – from mentoring young artists on my label, or highlighting new artists on my tours, I want to bring it back to the music.
Katy, I don't know what to say except that I didn't expect this from you, and am sad that you wrecked someone else's "teenage dream." We were rooting for you. We were all rooting for you!