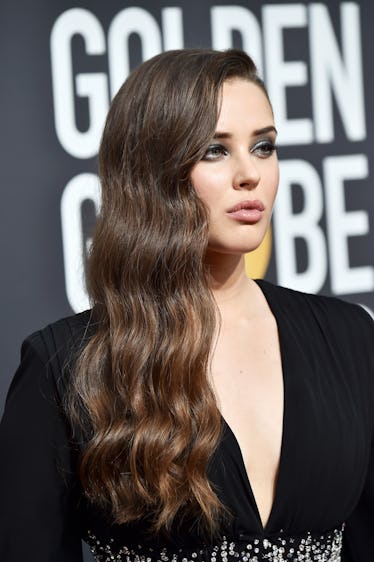 Katherine Langford Slayed The Golden Globes Red Carpet & Her Dress Is Gorgeous
Frazer Harrison/Getty Images Entertainment/Getty Images
Tonight is the 75th Annual Golden Globes awards ceremony, and Tinseltown's finest are out in full force to celebrate the past year of television and movies. There are lots of amazing stars in attendance this year, but TBH, I only have eyes for one major celeb and it's Katherine Langford from 13 Reasons Why. Katherine Langford's Golden Globes look is incredible, and her dress is seriously gorgeous.
It's no suprise that Katherine — who earned a Golden Globe nomination for her amazing performance as trouble teen Hannah Baker in 13 Reasons— turned up in black as a protest to sexual harassment in Hollywood, given that earlier in the week she joined over 300 women in the industry in signing an open letter as part of the new Time's Out initiative.
The #blackout look she went with is total movie star. Not only does the gown feature a sexy, low V-neckline and long billowy sleeves, but the floor-length number also has a killer bejeweled waist that I am obsessing over. Katherine carried the sparkly vibe through to her accessories, as well — which are MAJOR, and include amazing dangling earrings and a ear cuff, a trio of gorgeous, blingy rings, and a bunch of glittery star-shaped hair pins that she used to sweep her sultry flowing brunette locks over to the side.
And how much do you dig that serious smokey eye? This is old Hollywood with a gothic edge and it's incredible!
This is the first nomination for the 21-year-old actress, who says that "words can not express [her] sheer excitement and gratitude for being nominated."
She released a statement that read:
Hannah's story resonated with so many people, and I feel truly grateful to Netflix, Paramount TV, Brian Yorkey, Tom McCarthy, Selena Gomez, and all of our tremendous producers … and to our incredibly talented cast — who are also my dear friends, and our wonderful crew for bringing this story to life. Most of all, my sincere hope is that the recognition continues to shine a light on so many of the important life issues and struggles we portray in 13 Reasons Why. I'm forever grateful to have been given this opportunity and will continue to work hard to bring dignity, respect and grace to such a powerful character.
Tonight she was up against Caitriona Balfe for Outlander, Claire Foy for The Crown, Maggie Gyllenhaal forThe Deuce, and Elisabeth Moss for The Handmaid's Tale. Such a tough category filled with so many talented women, but I would have loved to see Langford take home the prize. Elisabeth Moss ended up taking the cake on that one, but I'm sure Langford's Liberty High posse will be there to offer their support. I mean, look what her co-star Tommy Dorfman — who played Ryan Shaver — just posted on Twitter:
Amazing!
Last night, Tommy hit up the Vanity Fair party with another 13 Reasons star, Christian Lee Navarro, who played the Yoda-esque Tony in the Netflix show.
How adorable are they? Dorfman also shared a pic on his Instagram story from one of his fittings for that sparkly Vivienne Westwood gown he's rocking:
He looks amazing, right? And I really hope he's at the show tonight along with the rest of the cast. Because the whole crew of young actors and actresses were total #squadgoals when they hit the stage to present the Show of the Year Award at the MTV Movie & TV Awards last spring.
Remember how they called themselves "Team 13" and basically Snapchatted and Instagrammed their way though the entire night?
So yeah, I'm just over here praying for some type of repeat performance. And congrats anyway, Katherine. You still look like a winner.
Just ask Tommy.