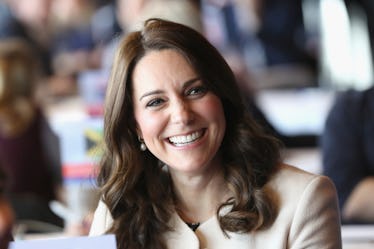 Kate Middleton Is In Labor With Her Third Child, So Get Ready For Another Royal
Chris Jackson/Getty Images Entertainment/Getty Images
Brace yourselves for a royal baby, everyone — Kate Middleton is in labor with her third child! Kensington Place announced in a tweet that Middleton went into "the early stages of labour" early in the morning on Monday, April 23, and fans of the royal family are so excited. Kensington Palace's announcement read, "Her Royal Highness The Duchess of Cambridge was admitted to St. Mary's Hospital, Paddington, London earlier this morning in the early stages of labour. The Duchess travelled by car from Kensington Palace to the Lindo Wing at St. Mary's Hospital with The Duke of Cambridge." This means we could be seeing the debut of the third royal baby by the end of today!
UPDATE: Kensington Palace announced on April 23 that Kate Middleton gave birth to a baby boy.
EARLIER: April 23 is actually a big day in English culture packed with meaning, so it's kind of perfect that the baby might be born today. April 23 is when England celebrates William Shakespeare's birthday. While his exact date of birth isn't known, historians believe he was baptized on April 26, 1564, and died on April 23, 1616, so April 23 is used as a day to celebrate his life. April 23 is also St. George's Day, which has been a holiday in England for hundreds of years celebrating the patron saint of England. So this baby has impeccable timing.
Kensington Palace announced that Kate Middleton was admitted to St. Mary's Hospital on Monday, April 23, around 3 a.m. EST. She was reportedly admitted before 6 a.m. this morning, which would've been around 1 a.m. EST, so the baby could very well already be born and we don't even know it!
Fans are so excited for the royal family and are anxious to see the baby's debut.
While the baby is set to have the most British birthday ever, they were just two days shy of sharing their birthday with Queen Elizabeth II, who turned 92 on Saturday, April 21.
The new royal baby will become fifth in the line of succession, knocking Prince Harry into sixth in line. But the funniest thing about that is Prince Harry, Princess Charlotte, and the new royal baby are technically commoners. Yup, they have royal titles, but English tradition says they technically aren't as royal as we think they are. Royal expert Marlene Koenig told Town & Country,
It sounds complicated, but in the U.K., the only people who are not commoners are the Sovereign and peers of the realm, [people with titles like] Duke, Marquess, Earl, Viscount, and Baron.
I guess the titles of prince and princess are just fancy additions to Prince Harry and Princess Charlotte's names. English rules are weird, guys.
Kensington Palace announced Middleton's pregnancy on Sept. 4, 2017, in a statement released on Twitter.
It read,
Their Royal Highnesses The Duke and Duchess of Cambridge are very pleased to announce that The Duchess of Cambridge is expecting their third child. The Queen and members of both families are delighted with the news. As with her previous two pregnancies, The Duchess is suffering from Hyperemesis Gravidarum. Her Royal Highness will no longer carry out her planned engagement at the Hornsey Road Children's Centre in London today. The Duchess is being cared for at Kensington Palace.
According to People, if the baby is a boy, the most likely names are Philip, Arthur, or Albert. If the baby is a girl, the most likely names are Mary and Alice. Whatever the sex and name of the baby end up being, people are most excited for Kate Middleton and Prince William to debut the royal baby on the steps of the Lindo Wing of St. Mary's Hospital. It's only a matter of time now!