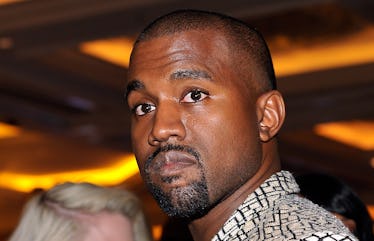 Kanye West Posted A Pic With John Legend & They "Agree To Disagree"
David Becker/Getty Images Entertainment/Getty Images
Kanye West is tweeting again. The rapper caused quite a firestorm since making his return to the social network, largely because of his ongoing series of tweets about his love for President Donald Trump. Since then, several celebrities have criticized Kanye for the pro-Trump rant, including his dear friend John Legend. But on April 27, the two linked up for dinner, and Kanye West's photo with John Legend shows that they're still going strong, despite their differences.
On April 26, a day after Kanye's controversial tweets, Legend sent the "Flashing Lights" rapper a text urging him to reconsider aligning himself with Trump, partly because of Kanye's influence and "the harm that Trump's policies cause, especially to people of color." His plea clearly fell on deaf ears because, even though Kanye expressed his appreciation for the input, he ultimately concluded that "bringing up my fans or my legacy is a tactic based on fear used to manipulate my free thought." To make matters (seemingly) worse, he posted the entire text exchange on Twitter for millions of fans to see.
However, what ensued next might have been a bit shocking for some spectators: Kanye and Legend snapped a fun pic at Chrissy Teigen's baby shower on April 27, indicating that there aren't any hard feelings between them and that they simply "agree to disagree," as Kanye captioned a photo he shared to Twitter.
According to People, Legend also gave an impromptu performance during the party, playing his hit "Ordinary People" for Kanye and other guests. With lyrics like "We're just ordinary people/We don't know which way to go," it's a pretty fitting song given the circumstances. And perhaps the rapper thought so, because he also shared a video of the performance on Twitter, which he captioned "Lead With Love."
Their evening together is incredibly moving considering the uproar Kanye has made since he returned to social media on April 13. Just days before Teigen's baby shower, on April 25, the rapper took to Twitter to call Trump his "brother" and to show off his signed Make America Great Again hat in a series of tweets.
Though several other celebrities have taken aim at Kanye for his tweets, including Wendy Williams, Rosie O'Donnell, and Perez Hilton, he has full support from his wife, and even Trump, himself.
On April 25, Kim Kardashian clapped back at her husband's critics on Twitter, saying he's entitled to having his "own opinions, even if really different from mine." She wrote:
When he spoke about Trump… Most people (including myself) have very different feelings & opinions about this. But this is HIS opinion. I believe in people being able to have their own opinions, even if really different from mine. He never said he agrees with his politics.
Trump also retweeted Kanye, thanking him for his "very cool" endorsement, and also phoned into Fox & Friends to elaborate on his relationship with the rapper, Us Weekly reported. He explained,
I have known Kanye for a little bit. I get along with Kanye. I get a long with a lot of people, frankly. Kanye looks and he seems black unemployment at the lowest it's been in the history of our country, OK? He seems Hispanic unemployment at the lowest it's been in the history of our country. He sees, by the way, female employment the lowest it's been in almost 19 years.
Mkkk...
At the end of the day, unfollowing a person on social media or unfriending them in real life have become common coping mechanisms when dealing with someone who has differing political views. So I'm glad to see Kanye and Legend putting their differences aside for the sake of their friendship. Gotta give 'em a hand for that.