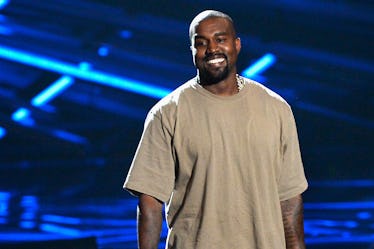 Kanye West Just Announced He's Moving To Chicago, But What About Kim K & The Kids?
Kevork Djansezian/Getty Images Entertainment/Getty Images
Is Yeezy leaving California behind? Well, it certainly sounds like he might be. Kanye West is moving to Chicago, at least according to an announcement he made during a Windy City event with Chance the Rapper. According to a video obtained by TMZ, West told a packed audience that he was leaving California for Chicago. And that's got fans a little bit worried about what that means for West's wife Kim Kardashian and their three little kids. Elite Daily reached out to West's team for comment on this story, but has not heard back at the time of publication.
In the video obtained by TMZ, West tells the audience, "I gotta let y'all know that I'm moving back to Chicago and I'm never leaving again."
The audience literally goes wild when West delivers that news and it's quite clear that they're proud that he loves Chicago as much as he does. As they're cheering, West is all smiles. He's very obviously reveling in the audience's joy.
Sources close to the situation revealed to TMZ that West intends to make Chicago his permanent place of residence. The rapper has reportedly already found a Chicago property that he will soon call his home base. So, the move is reportedly happening and no, West isn't reportedly leaving Kardashian. I'm sure Kardashian and the kids are more than happy to start anew somewhere fresh.
Despite the big move to Chicago, these new developments don't mean West and Kardashian are abandoning their life in California altogether. In fact, they're reportedly planning to keep all their properties in and around California, so that Los Angeles connection will still be there.
According to TMZ, West is of the mind that he can manage more than one home base — one in Calabasas and one in Chicago. I don't see why it's not possible. He and Kardashian can definitely hold down the fort in more than one place if they choose!
Additionally, West reportedly has plans to move his Yeezy offices from Calabasas to Chicago. I wonder if Kardashian will have a KKW office there as well. And what does this mean when it comes to filming Keeping Up with the Kardashians?
There's no word yet on what the long-term plan is, but if West and Kardashian are reportedly keeping their Los Angeles-based properties, then I'm assuming that they'll live in Chicago for a good chunk of the year. I can see them potentially going back to Calabasas for a short period of time while filming for Keeping Up with the Kardashians is underway. Or maybe they'll do something more long distance. Whatever they end up doing, I'm sure West and Kardashian will work it all out. It'll make for some interesting reality TV, that's for sure.
The TV show aside, though, if moving to Chicago makes West and Kardashian (and the kids) happy, then that's all that matters. The family has been through quite a few ups and and downs over the past couple of years, so maybe this is all for the best!