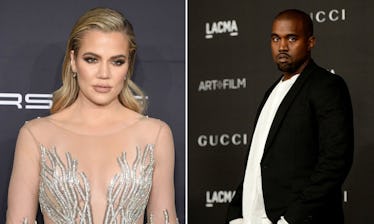 Kanye West Reportedly Gave Khloé Relationship Advice & She Wasn't Happy About It
JAMIE MCCARTHY/JASON MERRITT/GETTY IMAGES ENTERTAINMENT/GETTY IMAGES
Kanye West is many things: a producer, rapper, fashion designer, writer and... relationship expert? According to In Touch Weekly, Kanye West gave Khloé Kardashian relationship advice — and honestly, his reported comments couldn't be more fitting. Get ready to take notes, ladies, 'cause there truly are some gems in his remarks.
Apparently, it all went down when Khloé Kardashian called West to wish him a happy birthday on Friday, June 8. A source told the outlet the rapper immediately took the opportunity to persuade Kardashian to break up with her beau, Tristan Thompson. Elite Daily reached out to both Kardashian and West's teams for comment on the phone call, but has not heard back by the time of publication.
The reported phone call follows Thompson's cheating scandal, in which the baller was reportedly caught making out with multiple women over the course of his relationship in videos shared by both The Daily Mail and TMZ on April 10. Elite Daily reached out to Kardashian and Thompson's reps for comment on these cheating reports, but did not hear back by the time of publication.
While speaking with Khloé on the phone, West reportedly told her she's "too pretty and too smart to be with a man who's proven he's going to cheat for life." However, she was still offended by his comment and thus "gave Ye a piece of her mind."
"Kanye's received Happy Birthday phone calls from everyone in the Kardashian family, but it turned ugly when he talked to Khloé and told her to stop dating basketball players," the source revealed to In Touch Weekly.
In addition to his apparent belief that Thompson is no good for Kardashian, West also reportedly thinks their relationship is a bad influence on her younger sisters. (And considering how close the Kardashian Klan is, we can guess his reported comment only further infuriated the Good American designer.) The insider added, "He told Khloé that her sister Kendall is looking up to her and that by getting rid of Tristan she'd be setting a strong example."
Luckily for him, though, Kardashian reportedly didn't "go in on him too much" because it was still his birthday. But even so, their awkward encounter could've been avoided all together if West had paid attention to some of her latest tweets, where she boldly stated how much she doesn't care for any unsolicited relationship advice and urged critics to mind their own business instead of focusing "so much on someone else's life."
In a series of tweets posted on May 27, the reality star wrote, "People spend too much time finding other people to blame, too much energy finding excuses for not being what they are capable of being. People these days are focused so much on someone else's life instead of their own."
In the second tweet, she continued:
They love to give advice but are not living the advice that they are offering. Most of the ones giving advice are in no place to give anything at all. Focus on your own world. I'm sure there's cracks there that need your attention. We all got em
OK, so it's not super clear who Kardashian was exactly talking about through these tweets, but given the fact that they came amid fans' lingering anger toward Thompson, it probably isn't too much of a stretch to assume they're based on her relationship.
I can't believe I'm saying this, but for the first time in a while, I finally agree with something Kanye has said (even if it's not exactly what Kardashian wanted to hear). Then again, these kinds of situations can be pretty tricky and take time to figure out, so no pressure, Khloé. Only you know what's best for you!