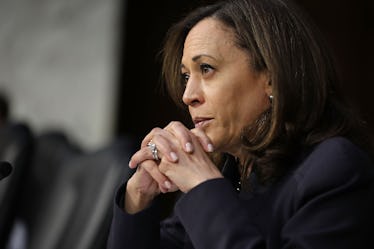 The White House Tweeted A Wild Attack At Kamala Harris & Her Clapback Is Everything
Chip Somodevilla/Getty Images News/Getty Images
The official White House Twitter account drew the line in the sand on July 2 when it took a personal attack on Sen. Kamala Harris (D-California.) to the next level by accusing her of supporting a violent gang. But the senator didn't take the attack lightly, and Kamala Harris clapped back at the White House on Twitter in a way that corrected its false claims while dishing out a little shade at the way the account runs things. It was pretty brutal, and perfect.
Typically, the White House Twitter account is used to talk about the president's achievements or various goings on inside the administration, but on July 2, it took a page out of its tenant's book and went full President Donald Trump with a personal attack on Harris. The White House accused Harris of supporting the "animals" of MS-13 — a violent international gang originally founded in Los Angeles by Salvadoran refugees back in the 1980s, which is known for primarily attacking other members of the immigrant community. Still, MS-13 has been a go-to Trump talking point when defending his immigration policies. He likes to say that Immigration and Customs Enforcement (ICE) has "liberated towns from the grasp of MS-13," according to Business Insider, though The New York Times calls this "misleading."
The tweet also included a link to a news release on the ICE government page stating that the agency removed a member of MS-13 on June 15 — I guess in an attempt to prove to her that it's doing the work it should be. The tweet said,
.@SenKamalaHarris, why are you supporting the animals of MS-13? You must not know what ICE really does. Here is a link to help you out:
Harris didn't waste any time and responded within the hour explaining that her experience as a prosecutor taught her how to go "after gangs and transnational criminal organizations" without "ripping babies away from their mothers," a clear dig at the Trump administration's "zero tolerance" policy that prosecutes every undocumented immigrant crossing the border and has seen migrant children taken from their parents. Harris wrote,
As a career prosecutor, I actually went after gangs and transnational criminal organizations. That's being a leader on public safety. What is not, is ripping babies from their mothers.
But the takedown didn't end there. Harris sent out another tweet that laid out her record of bringing members of cartels to justice as proof that she's not supporting violence or members of gangs as the White House claimed. She wrote,
My record speaks for itself: → Arrested members of drug trafficking organizations that smuggled in narcotics to the United States→ Announced the arrests in a murder-for-hire plot by a Tijuana-based drug cartel→ Confiscated 500lbs of meth from a Mexican cartel
Earlier on July 2, the White House also took aim at Senator Elizabeth Warren (D-MA). With the same sort of rhetoric, it also accused Warren of supporting criminals and tried to school her on what ICE actually does. The tweet read,
.@SenWarren, why are you supporting criminals moving weapons, drugs, and victims across our nation's borders? You must not know what ICE really does.
Warren, perhaps wisely, doesn't appear to have responded. Clearly the White House has a new social media style going on.
Harris believes because of Trump's hardline "zero-tolerance" policy on immigration that ICE has become a deportation tool wrongly used for things like taking children from their parents and detaining them, and not, as Trump claims, a tool for removing dangerous people like MS-13 gang members from communities. Because of that, she has been open about calling to re-examine ICE — and maybe even getting rid of the agency and building something new in its place.
During a June 24 appearance on Meet the Press, Harris said she thinks that we need to "critically reexamine ICE." She said,
I think there's no question that we've got to critically reexamine ICE and its role and the way that it is being administered and the work it is doing. And we need to probably think about starting from scratch.
Meanwhile, Trump thinks that his administration's practices are absolutely vital in order to maintain public safety. The White House even invoked the same term that Trump has been called out for using: animals. During a White House meeting in May, Trump reportedly went on a rant in which he referred to some undocumented immigrants as "animals," according to The New York Times. He reportedly said,
We have people coming into the country, or trying to come in — we're stopping a lot of them. You wouldn't believe how bad these people are. These aren't people, these are animals, and we're taking them out of the country at a level and at a rate that's never happened before.
Trump was asked about it the next day by a reporter and defended his choice, but said he was referring to MS-13, according to The New York Times. Trump said,
I'm referring, and you know I'm referring, to the MS-13 gangs that are coming in. We have laws that are laughed at on immigration. So when the MS-13 comes in, when the other gang members come into our country, I refer to them as animals. And guess what — I always will.
So while it's typical for Trump to call people out for supporting the "animals" of MS-13, this is the first time that the White House picked a side and went after a politician, according to Newsweek.
The official White House Twitter account is a taxpayer-funded account that belongs to the institution of the White House, so it's pretty wild for it to be personally attacking politicians of a rival party. Maybe just stick to fun photos of the Easter Egg Roll in the future — OK?