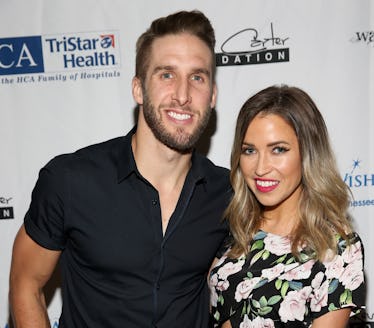 Kaitlyn Bristowe Explains The Real Reason She & Shawn Booth Broke Up
Terry Wyatt/Getty Images Entertainment/Getty Images
Bachelorettes are used to being vulnerable with an audience, and since her split from longtime fiancé Shawn Booth, Season 11 lead Kaitlyn Bristowe has continued to be honest with her followers. Only a few weeks after the pair announced the end of their engagement, the Canadian just shared more about her feelings during this rocky patch. Kaitlyn Bristowe's comments about her breakup with Shawn Booth are heartbreaking, but this Bachelorette has definitely proven she's worthy of fans' roses.
After meeting and becoming engaged on The Bachelorette in 2015, Kaitlyn and Shawn announced their breakup in early November 2018. While Shawn publicly thanked fans for their support following the news, Kaitlyn has stayed relatively silent about the change. The 33-year-old has now come forward with some emotional thoughts via a Nov. 20 episode of her podcast Off the Vine With Kaitlyn Bristowe. Before delving into an interview with country music star Kane Brown, Kaitlyn said:
It's been a really hard few months now...I really did think we'd get through it...To be honest, I thought we would choose the road where we would end up together. I just never took our commitment, or being engaged, lightly at all. I had the mindset of doing whatever it took to make it work. And now realizing, maybe to a fault, with all the hard moments in life come life lessons and that's what I need to take from all of this. Sometimes you need to take a moment and take a step back to think about what you are fighting for and if it make sense for your long-term happiness.
Pausing several times to hold back tears, Kaitlyn insisted that the happy couple fans saw on social media was "real." She told listeners, "But when it comes to roadblocks, and those fundamental values and getting through thing together, I just don't think we were on the same page — and it's painful to admit that."
Bachelor couples are no strangers to being deemed "love goals" among fans, and Kaitlyn even touched upon struggling with viewers' own sadness about the end of her relationship. "A part of me always felt like I was disappointing people with this breakup and my heart just aches," she said.
Of course, second chances and new beginnings are plentiful in Bachelor Nation, and anyone worried about Kaitlyn can rest assured that she's making the best of her situation. On the podcast, she said:
I hope with all of this I can choose to look forward and not in the rearview mirror at what could have been and what could have been different. I just hope, through this time, I can help other women who might going through a hard time, men too, knowing there is light at the end of the tunnel. And you always have to choose the right path for you and for your own happiness, even if that means battling heartbreak or hard times.
Given her history of being so open with podcast listeners, the former reality star also confirmed that PEOPLE didn't pay the pair for their breakup statement and that she and Shawn preferred a joint announcement rather than Kaitlyn saving the news as a podcast exclusive. It's clear that despite their breakup, these two are committed to remaining friends and treating each other with respect.
We wish the best for Kaitlyn as she adjusts to her new phase of life. Season 23 of The Bachelor premieres on Monday, Jan. 7, at 8 p.m. ET on ABC.