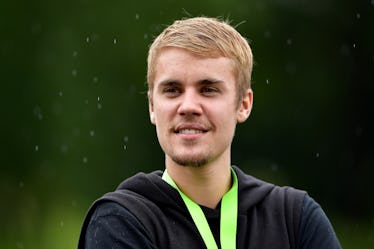 Justin Bieber Just Posted The Sweetest Instagram Post About His New Baby Sister
Stuart Franklin/Getty Images Sport/Getty Images
Congratulations are in order for the entire Bieber family: Justin Bieber's father Jeremy Bieber and his new bride Chelsey Rebelo have welcomed a daughter into this world on the morning of Thursday, Aug. 16! The daughter, who they named Bay Bieber, is singer Justin Bieber's half-sister — but I have a feeling that it doesn't matter to Justin that they don't share the same mother, because Justin Bieber's reaction to his new baby sister shows that there is nothing but pure love from the newly-engaged celeb.
If you recall, Justin Bieber's dad married Chelsey Rebelo back in February during their destination wedding in Jamaica, and Justin Bieber brought Selena Gomez as his date (those were good times, weren't they?).
And now, just six months later, Jeremy and Rebelo are going from newlyweds to new parents. Jeremy, took to Instagram on the morning of Thursday, Aug. 16 to show off a photo of himself alongside Rebelo and their perfectly squishy and adorable daughter, Bay.
"We welcomed a healthy baby 'Bay Bieber' born at 830 am," Jeremy captioned the photo, and added on Twitter, "Just Welcomed a beautiful baby girl into the world. Bay Bieber #babygirl#biebergirl."
And you guys, LOOK AT THIS PRECIOUS LITTLE BUB.
LOOK AT HER LITTLE HAND. LOOK AT HER LITTLE KNITTED CAP. LOOK AT HER LITTLE CHUBBY CHEEKS!
And if you thought that there could be no cuter photo of little baby Bay, then Justin Bieber is here to prove you absolutely wrong.
Just a few hours after dad Jeremy posted the happy news, Justin Bieber took to Instagram to show off the newest addition of his family, and honestly, my heart could explode into a billion little pieces. The photo Bieber posted was of little Bay in her newborn hat bundled in a pink blanket, and a close-up of her face shows her smiling just the teeniest bit.
I die, you guys.
Bieber proudly captioned his photo,
Meet the newest bieber, my little sister BAY BIEBER
BABY BAY IS ACTUAL PERFECTION.
And, look, I'm just gonna ~go there~ and say that this baby is pretty much proof that the Bieber family has some pretty great genes, which is a fantastic sign for newly engaged Justin and Hailey, if ya know what I mean.
But don't think that there are babies on the brain just yet for Jailey, who got engaged just after a few short weeks of dating. According to People, both Justin and Hailey have decided to push back their wedding plans for a pretty sensible reason.
"The wedding planning has slowed down a bit," a source told the publication, adding, "They still don't want a long engagement, but they are also not rushing the wedding."
This update came about after the pair were spotted crying together in a park in New York City (which Bieber later revealed to paparazzi that the reason he was crying was a book he was reading, titled The Meaning of Marriage: Facing The Complexities of Commitment with the Wisdom of God ). The source continued, telling People, "It was getting quite intense and they realized they want to enjoy being engaged for a while. It's not like they need to rush — they are both so young. They aren't slowing things down though because they are unsure if they want to marry; they definitely want to get married."
Smart move, kids!
In the meantime, they can just both gush over the newest baby Bieber, who should *absolutely* be the couple's flower girl for when their nuptials do finally happen. You're welcome for the suggestion, guys.