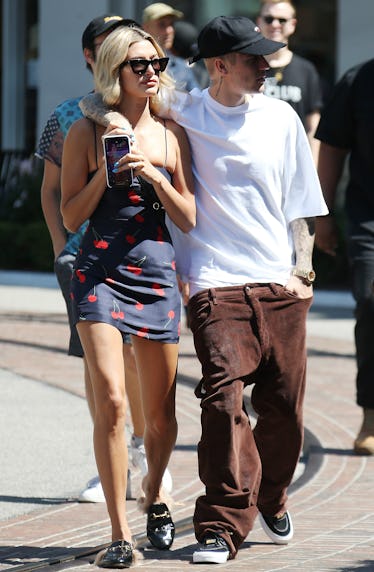 Justin & Hailey's Most Recent Instagram Body Language Says They're Figuring It Out
Broadimage/Shutterstock
Justin Bieber and Hailey Baldwin Bieber are definitely the type of couple you invite to your summer pool party, a cooler-than-cool rooftop happy hour, or your friend's indie rap show. Baldwin has the whole sweet, off-duty model vibe down pat, and of course, Bieber has a long-held a reputation of not giving a f*ck. Together, they are the embodiment of chill, and their Instagram feeds — featuring rappers, cars, fellow models, and designer clothes (like Bieber's Drew House line) — are no exception. When it comes to Justin Bieber and Hailey Baldwin's most recent body language on Instagram, I asked a behavioral psychologist to analyze a few key moments from their feed.
Six months after Bieber and Baldwin's Vogue cover story, and coming up on a year of marriage (the two got married at a courthouse in September 2018), their body language indicates they're still super into each other. Phew! However, there are a few moments where they seem a little off-sync.
In Bieber-Baldwin pics from late 2018 and early 2019, Baldwin seemed "way more into" Bieber than he was into her, according to body language expert Traci Brown. Brown picked up on cues like how Baldwin was "draped all over him," and how she both figuratively and literally leaned on Bieber for support. Now that they've probably settled into their marriage a little bit more, their body language has evolved right along with them. Here's what behavioral psychologist and communication expert Dr. Denise Dudley picked up on Baldwin and Bieber's most recent Instagram pictures together.