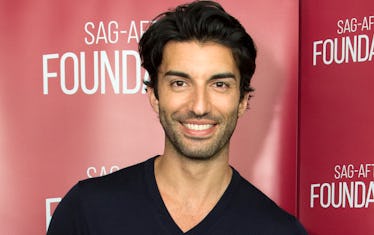 Justin Baldoni Gets Real About That Wild 'Jane The Virgin' Season Finale – EXCLUSIVE
Warning: Major Jane The Virgin Season 4 finale spoilers ahead. The last time I spoke with Justin Baldoni, Jane the Virgin had just made a three-year time jump, his character was headed to prison, and the titular character's husband, Michael Cordero, was dead. Fast-forward one year, and I'm speaking with Baldoni again at a hotel in Manhattan that sports blue hallways and rooms with floor-to-ceiling windows, similar to the design of the show's fictional Marbella Hotel, and Michael Cordero is alive. Yes, you read that correctly. The Season 4 finale of Jane the Virgin, in one of the biggest plot twists I've ever seen on television, revealed that Michael Cordero was actually alive. Justin Baldoni's reaction to the Jane the Virgin season finale was different than you'd expect, and it's because he had a hunch this was where the show was going.
It was getting too good for Jane and Rafael.
The only person in the cast who knew Michael was coming back at the time of the finale's table read was Jane herself, Gina Rodriguez. Baldoni tells Elite Daily that he thinks the finale's plot twist was "one of the more brilliant plot twists in any TV show in recent history" (agreed), but he did think something was up before the cast learned of actor Brett Dier's return at the finale's table read. "They kept it out of the script. It was redacted," he says. "I had a sneaking suspicion [Brett Dier was coming back] because there was only so many places this could go, and it was getting too good for Jane and Rafael."
He's right. Whenever things are coming up roses for the Villanueva women, a massive wrench is thrown into their lives. This season was particularly heartbreaking for the women, as Jane's mother, Xiomara, was diagnosed with breast cancer and underwent a mastectomy, Alba married a man who didn't love her, and now, of course, Jane's thought-to-be-dead husband seemingly comes back from the dead. Baldoni is "thrilled" to have Dier back on the show, however, and is excited for what his return could mean for the future of the show (which has been picked up for Season 5 by The CW, but it's rumored to be the show's last).
I knew that something was up.
He tells Elite Daily, "The last time things got really good for a couple on the show was with Michael and Jane, and then he died. So I knew that something was up. Brett is one of my close, close friends, so I couldn't be more thrilled that he's coming back."
Dier surprised the cast at the season finale's table read. He was met with hugs and excitement when they all realized what was planned.
In the video of the cast's reaction, you can see Gina Rodriguez, Justin Baldoni, and Yael Grobglas (Jane, Rafael, and Petra, respectively) jump out of their seats to hug Dier. Safe to say this was a well-kept secret. Baldoni tells Elite Daily that the reason the plot twist was so successful, in his eyes, was because they drew it out to the point where viewers genuinely believed Michael was gone forever. "I think what makes it so great and so genius is that it was a two-year play," he says, adding, "I think that's the key to all great surprises is that it went on so long that you forgot. Had it happened last year, we would've been like, 'Awwww! They did it!' But it was a full season and a half. It was super well-thought out and an amazing secret that they kept. It was pretty cool."
Outside of his work on Jane the Virgin, Baldoni is known for his web series Man Enough, his Ted Talk "Why I'm Done Trying To Be 'Man Enough,'" and his Instagram posts about being a feminist father. See the trend here? He's basically dedicated his public life to helping redefine masculinity. He maintains a transparent social media presence in the hopes that it inspires other men (and parents in general) to be authentic and vulnerable when it comes to speaking about their experiences as parents. He feels it's healing to know that many of the fears and struggles parents face are shared struggles, and that's part of the reason he's teamed up with the National Peanut Board on a campaign addressing peanut allergies among babies.
Recent findings to a LEAP study concluded that introducing peanuts into a baby's diet drastically decreases the chances of the child developing severe peanut allergies when they're older. Thanks to the findings of this study, the National Institute of Allergy and Infectious Diseases suggested that parents incorporate peanuts into the diets of babies starting before they're 6 months old. Baldoni and his wife, actress Emily Baldoni, decided to try out the theory on their son, Maxwell, but they understand the fear some parents might feel when deciding whether or not to try this method on their own babies. He tells Elite Daily, "My sister and my dad have pretty severe food allergies. I have friends that have had very close calls because of nuts and peanuts and have to carry around EpiPens, and I've seen how difficult it makes their lives at times." He adds, "We thought, well, if there's one thing we can do that could possibly prevent that kind of suffering for Maxwell, then let's do it!"
The process for this is pretty simple, Baldoni says. You mix some baby-friendly peanut powder in with either breast milk or formula one or a few times a week when feeding your baby, and that's apparently enough to help avoid a lifetime of peanut allergies. Some parents may feel this is a big risk, however. To that, Baldoni advises, "Education is empowering, and research and data — these are things that are comforting once you do the research. The most important thing I think is to speak to your pediatrician and to make sure that it's safe for your family."
Jane the Virgin Season 4 (and all of the other seasons) is now on Netflix, and the first three episodes of Baldoni's Man Enough can be found at WeAreManEnough.com. You know, just in case you want to binge everything this man has ever done, ever.