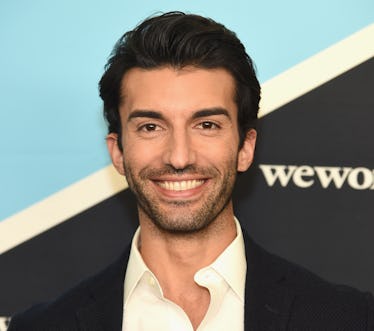 Justin Baldoni Was On 'Suite Life Of Zack & Cody' & You Probably Missed It – EXCLUSIVE
Jamie McCarthy/Getty Images Entertainment/Getty Images
Justin Baldoni is best known for playing Rafael Solano on Jane the Virgin, but he snuck his way into millennial hearts long before then, when he played a heartthrob fencing instructor on a particular Disney Channel show starring a particular Riverdale star. Yup, Justin Baldoni was on The Suite Life of Zack & Cody, and it's the best throwback you'll see all week. In an exclusive interview with Elite Daily, Baldoni opened about his upcoming feature film directorial debut Five Feet Apart, and how he came to officially meet one of its stars, Cole Sprouse.
Sprouse is set to play the leading man in the film opposite Edge of Seventeen actress Haley Lu Richardson, and it'll mark Baldoni's first go at directing a feature film. "This is my feature film directorial debut, which is really exciting," he tells Elite Daily. "I've been developing this movie for two years. Haley Lu Richardson is our lead and Cole Sprouse is our leading man." There's a sneaky Jane the Virgin connection here as well. Richardson has been dating Brett Dier for a couple of years now. Dier plays Michael Cordero on Jane the Virgin and is the main subject of the finale's plot twist. (I won't give any spoilers here, but you should definitely run to Netflix to watch it.)
Baldoni says he can't reveal too much about the premise of the film just yet, but he did say it's going to be a tear-jerker. "It's a romantic drama that I have a lot of my heart into," he tells Elite Daily, "and I really believe it's going to be a powerful, emotional, you know, make sure you bring a box of tissues to the movie type of event." If there's one thing Justin Baldoni knows how to do, it's being emotionally vulnerable, so this movie is probably going to hit you in feels you probably didn't even know you had.
And Cole Sprouse isn't the only Disney Channel alum in the cast of Five Feet Apart. Moises Arias, aka Rico on Hannah Montana, is also in the cast, according to Baldoni's Instagram announcement.
But let's get back to that epic throwback. Baldoni had a small role in Season 3 Episode 17 of The Suite Life of Zack & Cody. The episode was titled "Foiled Again," and it's the episode where Maddie and London fight over a hot fencing instructor (Baldoni).
Rafael, is that (a blurry) you?!
Baldoni tweeted about the episode himself back in October of 2015.
A fan tweeted, "The root of all of my issues this week can be pinpointed back to this episode of The Suite Life of Zack and Cody." Baldoni quoted the tweet and said, "Hahaha #memories."
He might remember his time on The Suite Life, but he tells Elite Daily that he doubts Cole Sprouse remembers him being on set at all. He says he met Sprouse while meeting with actors for Five Feet Apart, which is surprising considering they both star in TV shows on The CW. "I met Cole as I was meeting actors," he says. "I was really interested in Cole because this character in the movie is kind of equal parts kind of bad boy, but also really intelligent and has this really dry sense of humor." I note that that same description could also be applied to Riverdale's Jughead Jones, but Baldoni interjects and says it's "very similar to Cole," adding that Sprouse and his character in Five Feet Apart are both "really, really intelligent." Then Baldoni goes into his memory of meeting Sprouse almost 10 years ago on the set of Suite Life. He says,
Him and I first met because I did an episode of Zack & Cody 10 years ago. He doesn't remember because he was I think 10, but that's when we first met. He was 10 and I was 23, I think.
He didn't even use their mutual connections to Suite Life and The CW when getting into talks about the film, either. Baldoni says they had already been in talks about the film when he said, "It was when we first talked about the movie and I was like, 'By the way, so funny, a decade ago...'" And the rest is (Disney Channel) history.