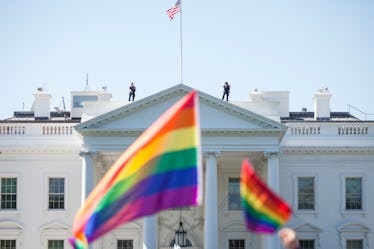 Justice Kennedy's Most Meaningful Supreme Court Opinion Was So Beautiful
Zach Gibson/Getty Images News/Getty Images
On Wednesday, June 27, Justice Anthony Kennedy announced that he would be retiring from the Supreme Court. He has truly made history throughout his service, but Justice Kennedy's opinion on Obergefell and same-sex marriage might be his most inspiring of all. I'm not crying, you're crying.
Justice Anthony Kennedy was nominated by President Ronald Reagan and took his oath of office on Feb. 18, 1988, and has since been been a devoted servant to the court. He has authored and co-authored major rulings throughout his career, one of them being Obergefell v. Hodges in 2015 — which legalized same-sex marriage. Although Kennedy was appointed by a Republican, he became known as a justice that didn't operate by strict ideologies, and he has sided with both the more liberal and more conservative justices in varying cases over the years. The Obergefell v. Hodges case proves this, especially as he was the one who wrote the majority opinion for the court that ruled in favor of same-sex marriage.
The opinion of the court reads,
The Constitution promises liberty to all within its reach, a liberty that includes certain specific rights that allow persons, within a lawful realm, to define and express their identity. The petitioners in these cases seek to find that liberty by marrying someone of the same sex and having their marriages deemed lawful on the same terms and conditions as marriages between persons of the opposite sex.
Kennedy's opinion in Obergefell went on to speak to the history and significance of the institution of marriage, noting it as "essential to our most profound hopes and aspirations." He walked through what philosophers from around the world have said about marriage, finally landing at the argument that marriage is so important that it would "demean a timeless institution" to grant the right to same-sex couples.
"Far from seeking to devalue marriage," he wrote, "the petitioners seek it for themselves because of their respect — and need — for its privileges and responsibilities."
After talking about the lives and love stories of several of the couples included in the case, Kennedy spoke about the history of LGBTQ rights and discrimination in America, including the history of similar cases on marriage that went through the legal system. He went on, discussing both cases and laws throughout the years, as well as discussing the basic rights that Americans have under the Constitution.
Throughout it all, Kennedy wrote about the importance of marriage with a lot of beauty, and as he discussed rights, he continually made note that same-sex couples are no different from straight ones. His opinion supported equal rights, but made it more than just a legal idea — he made it a human one.
Finally, in his conclusion, Kennedy wrote in the opinion,
No union is more profound than marriage, for it embodies the highest ideals of love, fidelity, devotion, sacrifice, and family. In forming a marital union, two people become something greater than once they were. As some of the petitioners in these cases demonstrate, marriage embodies a love that may endure even past death. It would misunderstand these men and women to say they disrespect the idea of marriage. Their plea is that they do respect it, respect it so deeply that they seek to find its fulfillment for themselves. Their hope is not to be condemned to live in loneliness, excluded from one of civilization's oldest institutions. They ask for equal dignity in the eyes of the law. The Constitution grants them that right.
According to Kennedy, his retirement will be effective July 31. After his decades of service, a Supreme Court news release stated that Kennedy hopes to spend more time with his family now that he will no longer be serving as a justice.
"It has been the greatest honor and privilege to serve our nation in the federal judiciary for 43 years, 30 of those years on the Supreme Court," Kennedy said in the statement.
Following Kennedy's announcement, the White House released a statement on Wednesday thanking the justice for his years of hard work.
"A Californian — like the President who appointed him — Justice Kennedy is a true man of letters," the statement said. "During his tenure on the Court, he authored landmark opinions in every significant area of constitutional law, most notably on equal protection under the law, the separation of powers, and the First Amendment's guarantees of freedom of speech and religion."
Oh, and don't forget proving that love is love no matter what.
Now that Kennedy has stepped down, many people are worried that history might take a few steps back now that Donald Trump has yet another Supreme Court justice pick to make. This will be Trump's second justice pick during his term, which means that the odds are in Trump's favor of having a conservative-majority Supreme Court.
Although nothing has really been decided so far, this could mean bad news for the likes of Roe v. Wade, the case that affirmed the legality of women's right to have an abortion. Ilyse Hogue, president of NARAL Pro-Choice America, said Kennedy's retirement might spell bad news for the future of women's reproductive rights. She said in a statement obtained by Elite Daily,
Today, Justice Kennedy announced his retirement, and because President Trump will nominate the next Supreme Court Justice, a woman's constitutional right to access legal abortion is in dire, immediate danger — along with the fundamental rights of all Americans. We also know that for decades, a multi-million-dollar, extreme, anti-choice movement has quietly and aggressively chipped away at that right in state legislatures, in lower courts, and now from within the Trump administration. Their stated goal, clearly and loudly, is overturning Roe v. Wade. Our country faces a moment of deep crisis — a crisis of rights, of values, and of leadership. The deeply-divided decisions from the Supreme Court this week are a clear warning that our most cherished values are in jeopardy, and now hang in the balance. Women will not go back to the days when abortion was illegal in this country.
This year is proving time and time again that the future of America is unknown, but as long as Americans stand together and fight for what's right, the people will always come out on top.