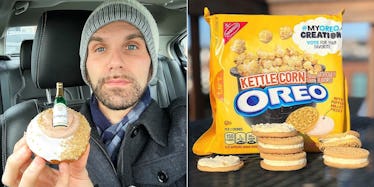 The Foodie Behind Your Favorite Viral Snack Account Has A Day Job You'd Never Expect
In a post-Kardashian world, every millennial thinks they have what it takes to go viral, but few consider what that online fame actually looks like in a person's daily life. In Elite Daily's new series Life Behind The Likes, we speak with the people you know on the internet — from the people behind major Instagram accounts to the Daaaaamn Daniels of the world who went viral for one remarkable moment of their lives — to meet the people behind the screens.
There's nothing better than scrolling through Instagram and coming across a bizarre new Oreo flavor or a delicious Ben & Jerry's pint that just hit the market. Food-centric Instagram posts give the photo-sharing platform so much flavor (literally), and the internet has viral foodie accounts to thank for the seemingly never-ending flow of mouth-watering images. One account in particular that gets me hungry every time I log onto Instagram is Junk Banter. The account — which currently boasts more than 163,000 followers — posts about new and rumored snack product releases on a daily basis. Believe it or not, the human behind this account works for the U.S. government. Yep, that's right. His name is Chris Brugnola, and he's the mastermind behind Junk Banter's Instagram page.
Brugnola is a senior auditor for the Department of Defense when he isn't trying new snacks and posting photos of them on Instagram, he tells me in an interview for Elite Daily. He says, "I plan and execute audits of U.S. Army maintenance operations with the goals of improving mission readiness, achieving cost savings, and protecting the lives of soldiers." The 32-year-old's full-time job stands in sharp contrast to his online persona as Junk Banter, a flavor enthusiast currently living in Baltimore, Maryland.
Before Brugnola was the man behind tasty food photos in your feed, he was a kid passionate about fun food flavors. He tells me, "I really loved junk food and snacks growing up. I always found myself liking the quirky flavors of stuff. Every time there was a new cereal, I would get really excited for something new."
In the early 2000s, when unique Oreo flavors started coming out, he became invested in trying new flavors and reading about them. After he went to college, he found himself "reading reviews of all these new things that would come out." Eventually, he and a friend (who remains anonymous), decided to take their love for food flavors to a new level and applied to be writers for a food blog. Unfortunately, it didn't go as planned.
"We both got rejected," he says. "They weren't fans of our writing style. And I was like, 'OK, well there goes that.'"
His friend didn't give up, though. "She goes, 'No, screw that, we're way funnier than this website. Why don't we start our own?'"
And that's how Junk Banter was born. In 2015, Brugnola and his friend blogged about what they loved and turned it into a website.
If we're gonna do this, I really want it to be super successful. I put my all into it.
It wasn't as easy as it sounds, though. Brugnola says he didn't know how to start a website, so he asked his friend — the anonymous cofounder — to set it up for him. Once the website was up, it become Brugnola's "passion project." He says he thought at the time, "If we're gonna do this, I really want it to be super successful. I put my all into it."
The website initially consisted of Brugnola and his friend writing food blogs back and forth to "make each other laugh." However, that wasn't enough to get readers onto the site, so he decided to start an Instagram page that same year.
"Little did I know that Instagram, especially, was gonna be what took off. So basically, what I started doing was, every time that I would find something new on the shelves that I thought was exciting ([like] a new product), I would post a picture of it and try to do some kind of witty caption or something. The captions evolved over time," he says.
"I didn't even know anything about hashtags. I was probably not reaching anyone when I first started doing it on Instagram, because I barely understood how Instagram worked," Brugnola says.
After researching foodie hashtags within the app and using them accordingly, Brugnola started seeing results. "Eventually, it just started to pick up traction. People were finding [my posts] organically, I didn't understand how, but I was like, 'OK, these hashtags seem to work,'" he says.
Brugnola noticed fitness accounts liking his content, so he decided to incorporate fitness hashtags into the mix. With the juxtaposing combination of foodie hashtags and fitness hashtags, Brugnola's account accumulated thousands of followers within the first year, hitting 10,000 in spring 2016. About one year later, in May 2017, his account ballooned to 100,000 followers.
As Junk Banter began picking up more and more traction, Brugnola started investing money into his posts without making money in return. In order to try a new ice cream flavor, you have to actually buy the ice cream — so tasting something new every day got expensive. At the time, he was only making revenue from the ads on his website, but those weren't enough to cover the expenses needed to travel to grocery stores and purchase different food products.
Brugnola tells me, "There's no organic way to make money off of [Instagram], other than doing sponsored posts." So, that's what he did. In his sponsored posts, companies would give him products to promote on his page and pay him for doing so. Brugnola says he's gotten up to $500 for posting a promotional photo, but he tries not to flood his grid with sponsored posts. In fact, he's only done about seven or eight in a total of three years, and claims the "balance is always going to favor legitimate organic content."
"When I negotiate [with] them, I'm careful to make sure they allow me creative freedom to use my own voice while still meeting their requirements," Brugnola says about sponsored posts, adding that he tries "to make it a fun sponsored post at the very least."
Regardless, his fans don't seem to mind the ad posts on his page from time to time. "I've actually found my followers are forgiving because I very rarely do them, and some will comment that they're excited for me because they think I deserve it," he says.
By now, Junk Banter is a total pro at creating the perfect foodie photo — he has a process that collectively takes around 20 minutes. After buying the food he's about to post about, he does a photoshoot of the product. He tells me, "A photoshoot — depending on what I'm doing — can take 5 to 20 minutes." That's pretty dang quick, considering the fact it takes me an hour to take a good selfie.
Once the photoshoot is done, he moves on to the editing stage. He says, "I might do a little photo editing to it using just Instagram's built-in stuff; that takes me 30 seconds. By now, I know what kind of stuff to do. Then I'll write a caption, probably another 5 minutes."
Apparently, the least glamorous part about the entire posting process is something you can probably relate to: coming up with the caption. He says he sometimes struggles to get the caption right, wondering, "What the hell am I gonna say about this?"
Yup, been there.
Based off Brugnola's success, it's obvious he's got the process down pat. His captions are hilarious and stay true to the persona he tries to express online. "I kinda like that people show up to my website, read my voice, and they have their own image of what I could actually be. You know? I kind of enjoy that," he says. In other words, he likes that he's mysterious AF.
When Brugnola isn't posting on his Junk Banter Instagram, he uses a personal one that's full of "dogs, the sky, food, little things like that." Even so, he tells me he rarely checks his personal feed since Junk Banter got so popular. Instead, he's often sweeping the internet (and the shelves) for more food content that he can share on his grid.
In fact, working on his Junk Banter Instagram so much has affected some of his relationships IRL. "I found that I'm not going out as much as I used to in my mid-20s. I'm 31, about to turn 32. Now, when I have some free time, I try to get ahead on my content. My friendships haven't really been affected, people just kind of know, 'Oh you know, he just got a little bit busier these days,'" he says.
Brugnola adds that having so many notifications from the viral account "does get really hard," so he only has notifications on for people that he follows. "I try to tell people: tag me in your photo, don't tag me in your comments," he says.
However, he stresses that he "never wants to become an account that doesn't interact back with people." If you want to get in touch with him, he suggests tagging him in a photo so he can respond (if warranted).
If you're really trying to communicate with Brugnola, he suggests adding him on Snapchat (@JunkBanter) in addition to Instagram. He says, "On my Snapchat — which doesn't have as big as a following as Instagram, but it has a sizable one — I show myself all the time. I incorporate some of my personal life, which people really enjoy. They like learning about the person behind the scenes, and they talk to me all the time."
In fact, Brugnola's favorite part about running the account is hearing from his followers — especially those who have found some solace from Junk Banter. "Some of the best feedback that I've gotten is from people that have struggled with, or are recovering from eating disorders. And some of the feedback that they've given me is really appreciative comments about the humor that I use in these posts ... [and how it] has boosted up their mindset about food, and helped them enjoy it," he says.
Brugnola explains that he appreciates "when you can positively impact some people that you would have never expected, and possibly make changes in their lives."
Next time you're scrolling through Instagram on the lookout for a new snack, make sure to check out Junk Banter's page. His passion for flavors shines through his grid, and it'll certainly make you hungry.