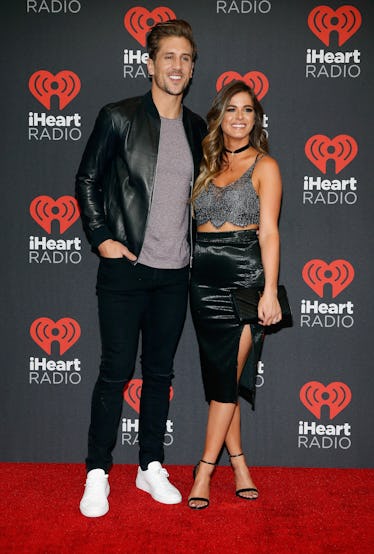 Jordan Rodgers Reveals How He Knew JoJo Fletcher Was The One, & It Makes So Much Sense
Isaac Brekken/Getty Images Entertainment/Getty Images
Anyone who watched just one episode of Season 12 of The Bachelorette could tell right away that JoJo Fletcher was going to pick Jordan Rodgers. It couldn't have been more obvious. Sure, she had chemistry with a few other dudes, but no one made her eyes light up like Rodgers did. Now, two years after they got engaged, Fletcher and Rodgers are still together and thriving. In fact, the story of how Jordan Rodgers knew JoJo Fletcher was the one will make you tear up faster than you can say, "Will you accept this rose?"
Rodgers stopped by Elite Daily in September to chat with us about his partnership with Holiday Inn Express, the hotel sponsor for the SEC. Rodgers, a former professional football player who works as a sports commentator for the SEC Network, participated in (and won) the Holiday Inn Express "Readiest" Breakfast Challenge, a friendly competition between himself and fellow sports personalities to promote a super sweet, 15-percent discount on any Holiday Inn Express reservation this fall. If you keep up with the former Bachelorette couple, you know that Rodgers' career with the SEC Network and Fletcher's career as a real estate developer keep them busy. But when they're not flipping houses or traveling for work, they're really just like any regular everyday couple.
"We are homebodies, in the best and worst ways," Rodgers tells Elite Daily. "So there's not much more that we enjoy than just kind of relaxing at the house. We'll have our date nights and we'll try to go to our favorite restaurants and get out as much as we can." When they're home, Rodgers says they also enjoy cooking together, "So making food, whether it's cause I love making breakfast, which is why I'm partnered with Holiday Inn Express, or dinner — trying something new."
They seem largely normal, despite having had an unconventional meet-cute, to say the least. And even though Bachelor Nation couples tend to get a lot of flack for not making their relationships last, Rodgers and Fletcher couldn't be more different. From the very beginning of their relationship, Rodgers tells Elite Daily he wasn't going to let being on a reality TV show cloud his judgment, and that's how he knew Fletcher was the one.
"Every time that we were like on a date and I felt like, OK, I kind of like her, right? I wouldn't tell her and I wouldn't try to express those feelings too strongly because I wanted to step away, go sleep in my bed at the hotel, wake up the next morning and be like, OK, if this wasn't on a boat in Uruguay, would I be feeling the same way at a Starbucks in Dallas?" he says.
A smart approach! It's easy to fall in love with someone on a beautiful, Bachelorette-sponsored vacation, but realizing that he'd still feel the same way about Fletcher if they were starting off on a more conventional foot helped him stay true to his feelings throughout the process. "It was frustrating because even toward the end I was like 'Hey, we don't have to get engaged. Like, if you're ready and I'm ready, let's do it. But if we're not, we can do this after the show.'"
But they did get engaged, and even though they reportedly haven't started planning their wedding just yet, they're still getting to know each other and enjoying every minute. Rodgers tells Elite Daily people don't often realize that, sure, you get to know someone "as well as you can in nine weeks with no cell phone, no internet, no anything," but after the show airs, you're hit with "everything," he says. "The People magazine, the gossip stories, the everything. And you're also trying to like, learn about each other, trust each other, move in together." Clearly, it's a lot.
"When people always ask 'When [are] you getting married?' it's like, yeah, well, we've been engaged for two years, but like the first year really isn't a first year," he says. "It's not like your typical relationship, it's very abnormal. So we just feel like, we feel like kind of now we've been engaged for a year because we got through the craziness of that first year."
A lot can happen in two years, but in getting to know each other, Rodgers says that flipping houses together has played a big role in how they've learned to compromise in their relationship. On The Bachelorette, you're not exactly put in situations where you'd have to resolve big conflicts. The most compromising that contestants probably have to do is deciding what kind of margaritas they're going to drink on their one-on-one dates. But Rodgers says "learning how to actually listen" has helped them through points of contention.
"Like that's one thing when you're new in a relationship or you're just getting to know somebody, you want to either tell [them] how you feel really quick, or get defensive over something," he says. And when they can't find a way to compromise, they resort to something simpler: taking five.
"We joke around, 'Take five. We're going to take five and then we're going to revisit this,'" he says. "Whether it's calmer or more centered or whatever it is. So we always just say, 'Hey, take five,' 'OK, cool.' Let's press pause on this and we'll revisit in a few minutes and move on."
Pretty freaking normal for a couple who got engaged on national television, wouldn't you say? That's one of the most charming things about this couple, really. They don't get tied up in Bachelor Nation drama, they don't angrily subtweet live during episodes, and they don't seem to really care much about the petty gossip that goes hand-in-hand with reality TV. They focus on what matters most: the things that make them happy, and each other. Sounds like a recipe for lasting love, if you ask me.
Check out the "Best of Elite Daily" stream in the Bustle App for more stories just like this!