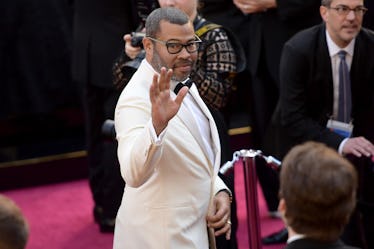 There's A Tiny 'Get Out' Detail On Jordan Peele's Oscars Suit & It's Too Perfect
Matt Winkelmeyer/Getty Images Entertainment/Getty Images
What makes Jordan Peele so great? His attention to detail. In honor of his numerous nominations at this year's Academy Awards, Jordan Peele's 2018 Oscars pin hints at his acclaimed project Get Out, and it's absolutely perfect.
After scoring four Oscar nominations for his 2017 hit movie Get Out, Peele of course showed up to the red carpet to make a statement. Celebrities from all walks of Hollywood are gearing up for the film industry's biggest night, but many are planning on sporting an orange pin this year. It's unclear whether Peele has decided to join the cause, but his antler pin with blood on it proves he's still representing. According to a press release, the pin was designed by Peele's stylists Sydney Lopez and Chris Horan, and Jason Arasheben, the CEO of Jason of Beverly Hills.
What's so unique about this pin you may ask? Well, the deer was a key theme throughout Get Out, appearing in both the beginning and end of the film.
Peele wearing a pin might be a nod to celebrities choice of wearing orange pins to highlight issues surrounding gun violence prevention, but the use of the deer obviously shows he's not forgetting that he can officially call himself an Oscar nominee. Since the deer represented unfortunate prey in Get Out, the comparison to the deer and those falling victim to gun violence is pretty spot on, whether Peele intended for it or not.
Peele may be a triple threat as an actor, screenwriter, and director, but he's also a total man of history. His movie Get Out not only holds a score of 99 percent on Rotten Tomatoes, but the film garnered huge acclaim from its numerous hidden themes and messages throughout its entire plot line. From Rose's silver spoon to a camera flash, symbolism is clearly Peele's forte.
Peele being a perfectionist definitely paid off. He himself is nominated for Best Director and Best Screenwriter, while Get Out actor Daniel Kaluuya is up for Best Actor. However, Get Out is ultimately up for The Academy Awards' biggest honor "Best Motion Picture."
Despite the nods, Peele isn't taking all the credit. Upon hearing the Oscars announcement, he's praised Kaluyya to CNN for his incredible performance while filming and cited him as a huge reason why Get Out was such a success.
He said,
I think the biggest thing Get Out taught me about the power of story is that one of the few ways we can promote empathy is by seeing the world through somebody else's eyes, and that's what that's what great story does. That's what a strong protagonist does.
Get Out was received by audiences and fans as a simple work of cinematic genius, but it's been difficult for awards shows to categorize the film into a specific genre. While the film scored nods at the 2018 Golden Globes, it was categorized in the Comedy genre, which led to nominations for Best Musical or Comedy Motion Picture. In response, Peele tweeted on Nov. 15, 2017, claiming that Get Out is a documentary.
Peele further discussed labeling the film during an interview with IndieWire, stating that it's impossible for Get Out to be put in a "genre box."
He said,
Originally, I set out to make a horror movie. I ended up showing it to people and hearing, you know, it doesn't even feel like horror. It's in this thriller world. So it was a social thriller. What the movie is about is not funny. I've had many black people come up to me and say, 'man, this is the movie we've been talking about for a while and you did it.' That's a very powerful thing. For that to be put in a smaller box than it deserves is where the controversy comes from.
Lil Rel Howery, who played TSA agent Rod Williams (perhaps the funniest character in the film), also tweeted about the Comedy label:
Jordan Peele: director, screenwriter, genre-breaker, and possible Oscar winner? What a champ.