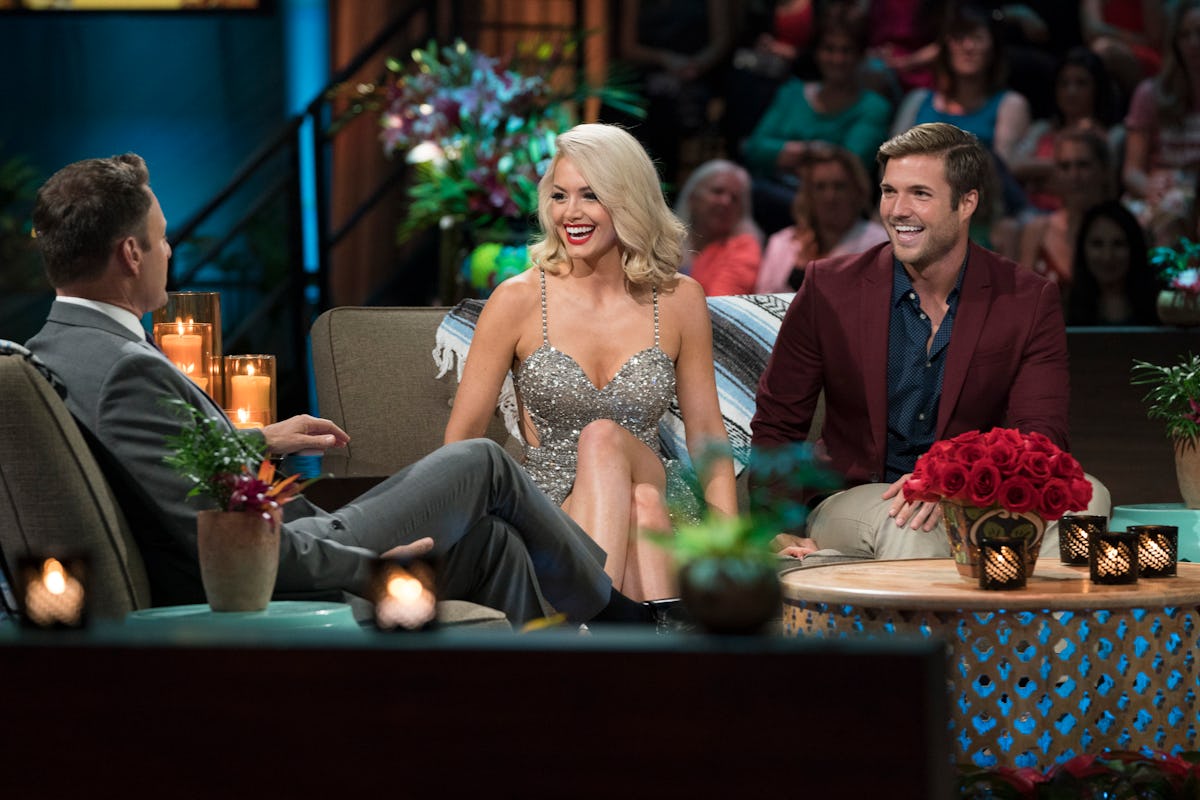 Jordan Kimball Shared An Email From Jenna Cooper's Lawyer, So The Drama Isn't Over
ABC/Paul Hebert
It might be the off season in Bachelor Nation, but the latest Bachelor in Paradise scandal keeps proving that what happens in Mexico doesn't always stay there. Soon before the Season 5 finale, the publication of texts allegedly sent between contestant Jenna Cooper and a man to whom she was romantically linked suggested that Jenna was cheating on Paradise fiancé Jordan Kimball. The texts inspired Jenna's legal battle against spoiler king Reality Steve for releasing them, but Jordan Kimball just shared an email from Jenna Cooper's lawyer, and the drama is far from over.
Although Season 5 of Paradise ended in mid-September with Jenna and Jordan discussing wedding plans, viewers were reeling from what Reality Steve, aka Stephen Carbone, had shared about Jenna a day before. The blogger posted screenshots of texts he claims a man had sent him that reportedly documented his romantic relationship with Jenna and how she was reportedly planning to break up with Jordan and frame him as the one to blame in the split. Elite Daily has reached out to the teams of Steve, Jenna, and Jordan for additional comments, but did not hear back by the time of publication. While Jenna denied the claim, Jordan soon broke up with her as a result of it, telling Entertainment Weekly:
I'm removing myself from the relationship with intentions to take care of myself and find my happiness. I will not lash out, I will not try to convince people that she is a bad person. You will not see me pursue any kind of vengeance on her. I care about Jenna.
Following their breakup, Jenna released a statement calling out Steve and explaining the legal procedures she had begun to prove the messages were false. After staying relatively quiet throughout Jenna's updates, Jordan then shared an email on Oct. 5 that Jenna's lawyer reportedly sent him. In the letter, North Carolina attorney Justin Apple appears to accuse Jordan of fabricating the incriminating messages. Claiming that Jordan collaborated with Reality Steve to create the texts, Apple asks for the former Bachelorette contestant to confirm that he knows the texts aren't real.
Although he shared the entire email on Instagram without a caption, Jordan has now spoken to Entertainment Tonight about being accused in the case, saying:
I absolutely, 100 percent did not fabricate those text messages. I'll put my hand on the Bible for that. I was absolutely blindsided by this. When I got this email, I called Mr. Apple... Then, we got on the phone and he started shouting at me. In my mind, that isn't OK. I ended the phone call and then his associate, Bill Young, called me several times within 10 minutes. At this point, I have nothing to say to them... The way they're portraying this situation doesn't add up for me. I'm not gaining anything from it.
Elite Daily has reached out to attorneys Young and Apple for comment, as well as Jordan and Jenna, but did not hear back by the time of publication.
Jordan says he was not in contact with Steve until the night the blogger published the texts. Following the news, Jordan also expressed his thoughts on Jenna's messages in an interview on the Reality Steve podcast.
While fellow Paradise couple Krystal Nielson and Chris Randone, or Team GlitterGoose, seem to be living happily ever after, Jenna and Jordan's drama has definitely kept Bachelor fans busy in between franchise seasons. Here's hoping that both parties come to some kind of resolution soon.
Season 23 of The Bachelor premieres on Monday, Jan. 7, 2019, on ABC.