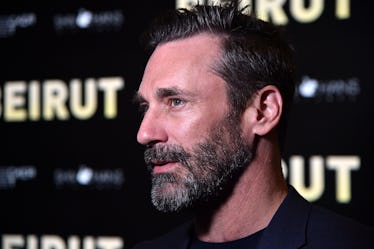 Jon Hamm Made A Great Point About Why Mental Health Isn't Something You "Just Deal With"
Theo Wargo/Getty Images Entertainment/Getty Images
For a long time, I believed that true strength simply meant barreling through whatever problems you encountered. Hurt your leg during a soccer game? Shake it off. Get negative feedback on a research paper? Power through. Luckily, I've since come to appreciate the importance of truly caring for myself, both my body and my mind. So when I heard Jon Hamm's comment about mental health in a recent interview he did, I was grateful for the way in which he so clearly articulated the fact that taking care of your mind is just as crucial as taking care of your physical body.
Many people still don't seem to recognize that mental health issues, like any kind of physical health ailments, are serious and need the same type of attention, which is exactly what Hamm was getting at in a recent interview on the show In Depth with Graham Bensinger. "People think if you break your ankle, you're not expected to just walk it off," he said. "But if your brain chemistry is somehow a little tweaked, you're somehow expected to just deal with it."
After Hamm's father passed away while he was in college, the Mad Men actor explained in the interview that he began to feel less like his usual self, and that he had a hard time leaving the house. But, at his sister's urging, he sought professional help. Speaking with a therapist and getting on medication for his depression, he told Bensinger, made a huge difference in his life.
In case you didn't know, this definitely isn't the first Hamm has opened up about his own experiences with mental health struggles, let alone the first time he's advocated for therapy. To Hamm, seeking help when you need it is not a sign of weakness, but rather, of genuine strength. "We live in a world where to admit anything negative about yourself is seen as a weakness, when it's actually a strength," he told InStyle back in 2017. "It's not a weak move to say, 'I need help.' In the long run it's way better, because you have to fix it."
The actor has long been vocal about normalizing mental health treatment in a number of interviews. In a conversation with The Guardian in June of 2017, for instance, Hamm talked about therapy as something that's not only healthy, but something that should be a regular part of taking care of yourself. "It's like going to the dentist," he said. "If you can afford it, why wouldn't you?"
According to the National Alliance on Mental Illness, about one in five adults in the U.S. — nearly 44 million, or 18.5 percent of the population — experiences mental illness in a given year. And mental health issues can have serious implications: The organization states that suicide is the 10th leading cause of death in the U.S. overall, the third leading cause of death for people between 10 and 14 years old, and, heartbreakingly, the second leading cause of death for those between 15 and 24 years old.
If you aren't feeling quite like your usual self, there is never any shame in looking for a professional who can help guide you. Moreover, there are so many mental health resources that are there to assist you whenever you need someone to talk to. If you need help finding a therapist in your area, GoodTherapy.org and PsychologyToday.com both have directories that allow you to search by zip code and narrow down professionals based on the mental health condition you're seeking treatment for. If you're looking to speak to someone on the phone about what you're going through, you can reach the National Suicide Prevention Lifeline at 1-800-273-8255 at any time of day, or message the Crisis Text Line by texting "CONNECT" to 741741.