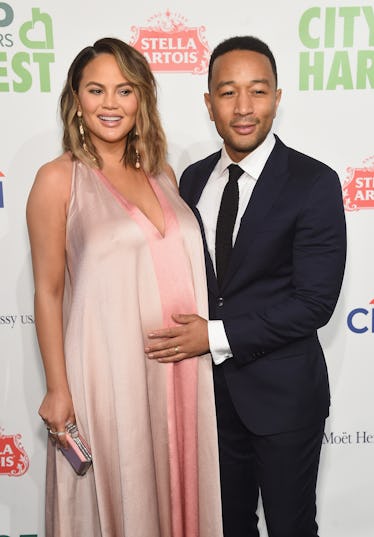 John Legend's Reaction To Chrissy Teigen Giving Birth Is So Simple, But So Sweet
Jamie McCarthy/Getty Images Entertainment/Getty Images
If you felt the ground rumble when you woke up this morning, it's because everyone on Earth is celebrating the birth of Chrissy Teigen and John Legend's new baby boy! And wait until you see John Legend's reaction to Chrissy Teigen giving birth. It's so simple, but it's just so John and it's perfect! John and Chrissy are one in marriage, soulmates, and life partners in this world, so it makes total sense that John simply RT'd Chrissy's tweet excitedly exclaiming that their second child is here. "Somebody's herrrrrrre!" it reads.
Teigen revealed on The Ellen Show months ago that she was set to give birth in June, so this news is coming a bit early. And what a happy surprise for Legend and all his and Teigen's fans!
Fans are obviously losing their cool completely on Twitter because another beautiful human spawned from Teigen and Legend was precisely what we all wanted and needed in our lives.
Based on Teigen and Legend's enthusiastic tweet, the couple couldn't be happier about the new addition to their family.
Now, fans have one major question: What is the baby's name going to be? Will it start with an L, like Luna's name?
Or will Teigen take some much-needed inspiration from the current viral Laurel vs. Yanny debate she feels so strongly about? She made it very clear that she falls firmly on Team Laurel.
Nothing would show her commitment to the team more than to name her second-born child after the audio illusion, no? Plus, it begins with an L! It's a sign and it's PERFECT.
Fans will definitely be looking out for their girl in the coming weeks, as Teigen has been very open and honest about her struggle with postpartum depression after giving birth to Luna in April 2016. She opened up about it in an essay for Glamour in March 2017 and how it affected her will make you want to wrap her in a protective hug. She wrote,
During that time my bones hurt to the core. I had to go to the hospital; the back pain was so overwhelming. I felt like I was in an episode of Grey's Anatomy. These kids were around me, asking questions. Maybe it was a kidney infection? No one could figure it out. I saw rheumatoid doctors for the wrist pain; we thought it might be rheumatoid arthritis. I felt nauseated all the time, so I saw a GI doctor. I wondered: 'Am I making this all up? Is this pain even real anymore?'
Teigen was so grateful to learn that what was feeling was real, and when she was diagnosed, she was able to focus on getting better.
She went on to explain that her experience with postpartum depression did not change one major dream she had for her daughter Luna: to give her some baby sibs! She wrote,
I love John and Luna more than I can imagine loving anything, and John and I still hope to give Luna a few siblings. Postpartum hasn't changed that.
Obviously, Teigen and Legend made good on that hope pretty quickly! I'm so thrilled for them and their new baby, I can't even explain. Just think how Luna must be feeling right now! I know for a fact she's going to take to being a big sis like a boss. And OMG. I just thought about how friggin' adorable all the new family photos are going to be.
Okay, Chrissy. Girl? I'm going to need you to hop right back on to Twitter and give us every detail about your new baby boy, stat. I know you just gave birth to an actual human, and please forgive me, but I'm just feeling some type of way and need DETAILS, okay?