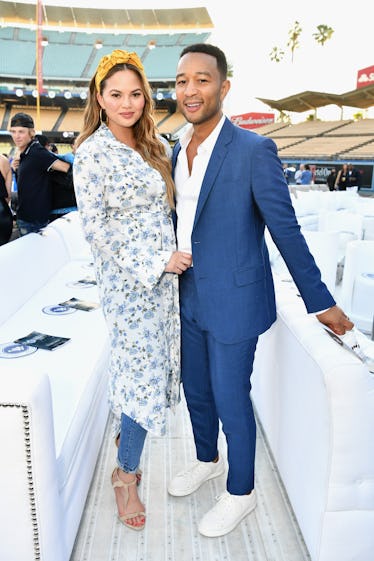 John Legend Just Revealed If He & Chrissy Teigen Are Planning On Having More Kids
Emma McIntyre/Getty Images Entertainment/Getty Images
There is no celebrity couple that I love more than Chrissy Teigen and John Legend. They are beyond adorable together, and there is nobody on the planet who could tell me otherwise. Plus, they have ridiculously cute babies — little Luna and newborn Miles — which only enhances my love for them even more. And you guys, John Legend's comments about having a third baby with Chrissy Teigen will melt your damn heart.
After just three months since welcoming their son Miles into the world, the couple already has more babies on the brain (!!!) and I am only mildly freaking out. On the most recent episode of Big Boy's Neighborhood, airing on FM — Fuse Media, Legend spoke candidly about adding another little one into their family.
"I think so, we'd like to. We can do three," the "All Of Me" singer revealed when asked if he and Teigen were planning to have any more children.
What do we want? MORE TEIGEN/LEGEND BABIES? When do we want 'em? RIGHT NOW, PLEASE AND THANK YOU!
In a previous interview with People, he told the magazine that they've been soaking in all of the family time that they've been having together.
"There's a lot of family days ... We've been home a lot," Legend said. "We haven't been working much at all. I've barely been working and Chrissy hasn't really been working at all, and so we spend a lot of time at home. We just enjoy each other's company."
God, could they just adopt me already?
Legend gave People the run-down of his daily agenda, and — spoiler alert — it sounds surprisingly normal for a family of four. He said:
We like to cook. We like to relax with friends. We like to have people come over. A lot of it's just the nuts and bolts of making sure Miles is fed. Making sure he sleeps well. Making sure we burp him. Making sure we change his diaper. It's just the practical everyday things of being a parent, and so we're immersed in that time in his life right now.
Sounds pretty perfect to me, TBH.
Let's be real: who wouldn't want to hang out with these two adorable, tiny humans?
C'mon, look at this happy little family!
Luna is a perfect little peanut:
And Miles is THE actual cutest baby that the world has ever seen:
BRB, crying.
And it's clear that our girl Chrissy is just as in love with her little family as her husband is, and in an Instagram post this past Father's Day, she thanked John Legend for helping to create their "beautiful life" together. On June 17, she wrote,
What a man, what a man, what a mighty good man. Thank you for the beautiful life and these beautiful lives you have given me. My best friend and partner always, the most loving and generous and kind human in the world. And the smartest. I didn't say funniest so you know I'm not lying here. We love you with all our hearts. Happy Father's Day
OK, Chrissy. Enough gushing on social media about your husband, and hop to making those babies. Chop, chop!