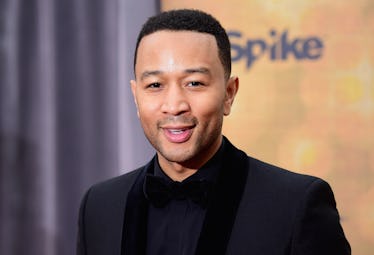 John Legend Revealed Baby Luna Said "Beyoncé" & She's The Newest Beyhive Member
Frazer Harrison/Getty Images Entertainment/Getty Images
John Legend and Chrissy Teigen are expecting baby number two, but they're still learning the parenting ropes as they raise their first child, Luna. While most parents coo and cheer when their children learn how to talk, Legend and Teigen are being very Hollywood about which of Luna's new words they're celebrating. Recently, John Legend revealed that baby Luna said "Beyoncé" for the very first time and that she's the newest member of the ever-growing Beyhive.
Nope, these aren't your every day parents. Legend and Teigen, who are basically pop culture icons, are readying baby Luna for her place in the limelight, too. And that means knowing the important things about their industry...you know, like Beyoncé's name.
The adorable revelation of Luna's first "Beyoncé" came while Legend was making an April 11 appearance on The Ellen Show. During the interview, Legend told Ellen DeGeneres that Luna, who's just 2 years old, recognized Beyoncé by just listening to her album Lemonade.
She had a milestone yesterday, she said 'Beyoncé' for the first time. She said 'Beyonce,' I was like, 'That was Luna's first 'Beyoncé!' I feel like I should write it down in her baby book.
See what else Legend had to say:
While Legend and Teigen are often a bit tongue-in-cheek when revealing details about their private lives, these new details about Luna seem genuine but also kind of hilarious. Not only does baby Luna live in a world where Beyoncé reigns supreme (at least, musically), but she's also got two humorous parents who love and respect the music industry... so much so that they'll take Luna saying 'Beyoncé' and make into a shareable and fun pop culture moment. Love them!
After Legend relayed the story of Luna and the precious Beyoncé moment, DeGeneres then asked if the little one could say Ellen yet. Although Legend said no, he did mention that if he told Luna to say it, she would. How cute!
Legend also talked to Ellen about the second Legend-Teigen child that's on the way:
We're due very soon. We have number two on the way and I don't know what to expect really, because I don't know how Luna's going to be at sharing and being a big sister. I don't think she grasps exactly what's going to happen, but we'll see.
How exciting for the whole family to welcome this new little one! While the new baby boy is due soon, there's still some time for the couple to go before they'll bring him home. Teigen is reportedly due to give birth in June. Plus, there's still the whole business of finding the perfect baby name, which Teigen admittedly is having a tough time with. They have plenty of time between now and June to get that settled!
But let's get back to Luna, Legend, and Beyoncé for a second. During Legend's interview on The Ellen Show, DeGeneres also asked him if Luna knows who bit Beyoncé.
Legend revealed that little Luna does not know who bit the music icon, but that he and his wife do. "There was a party and Beyoncé got bit on the face and Chrissy knows," Legend told DeGeneres. "We know who it was and we're not talking about it."
Uh-oh. Sounds like those non-disclosure agreements were passed around early! If Legend and Teigen aren't going to open up about it, then that mystery will probably never be solved. Too bad for fans who are still dying to know the details of that party.
But, really, who in their right mind would bite Beyoncé? Certainly not little Luna, who's now confirmed to be the newest member of the Beyhive!