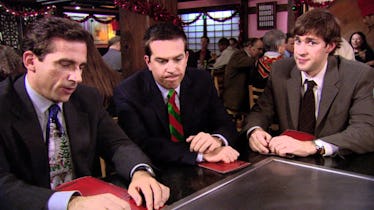 John Krasinski Wants A 'The Office' Christmas Special Reunion & We Need It To Happen
NBC
If John Krasinki's dreams come true, then fans of The Office are in for the ultimate happy holidays someday. The actor behind Jim "Big Tuna" Halpert discussed the pretty much unavoidable topic of a potential revival of the beloved series, and it sounds like he's on board with a reunion of sorts. A very merry reunion, that is. It's true — John Krasinski wants a The Office Christmas special. Please listen to him, producing powers that be!
"It's one of those things where I'm sure people don't believe me when I say I would totally do it, because the truth is I would totally do it," Krasinski told IndieWire, hammering home the fact that he's completely willing to step into Jim's sneakers again in some capacity. And he's taking a cue from the British series that started it all — Ricky Gervais' original mockumentary aired Christmas specials to conclude the show in place of a full third season.
"I think the UK thing that I always have pitched and wanted to do is that Christmas special thing, where we do a Christmas special this year and then two years from now, or three years from now, we do another one," John elaborated. "I love that idea coming back finding out where everybody is. I would totally be down for that."
Not only is John proposing one follow-up to the beloved series, he's suggesting the cast come back every few years? Now this is something I can get behind. Imagine a world where you get to reunite with your favorite characters for holiday-themed television events? It might not work for every now-defunct show, but I think Krasinski is on to something when it comes to The Office crew.
John isn't the only former Dunder Mifflin-ite who's weighed in on an Office revival. But how could we have a Jim without a Pam? Krasinski's former on-screen wife Jenna Fischer, who now stars in ABC's new relationship sitcom Splitting Up Together, is another champion of resurrecting The Office. Though, she explained the show would need that original crackerjack writing team to work their off-screen script magic in order to make it work. Fischer told The Hollywood Reporter earlier this year:
I think the idea of an Office revival is a great idea. I would be honored to come back in any way that I am able to. I loved playing that character and as long as Greg Daniels is the person in charge and the visionary behind it, then I would absolutely be up for it. We just have to get Mindy [Kaling], B.J. Novak, Gene Stupnitsky and Lee Eisenberg, Mike Schur to write some episodes. That show was so great because of the talent involved behind the scenes, not just on the screen.
The big question on every Office fan's mind has got to be if the incomparable Steve Carell would ever reprise his role as the World's Greatest Boss, Michael Scott, for more 9-5 antics. He's the missing piece to the comedy puzzle. Unfortunately, the Oscar nominee thinks a revival just wouldn't make sense. He told ET last year:
No. No, I just don't... I don't think there's... no. I don't want to be a jerk about it but I think that people that like the show originally would want it to come back and be exactly the way it was, but that could never happen because all the writers would be different and I just wouldn't want to try to recreate that was a very, very specific moment in time. And I kind of don't want to do it because I love the show so much. I think people would be disappointed.
Leave it to Mindy Kaling to remind just how necessary Michael Scott's commentary is. The writer/actress/producer/everything tweeted her Michael Scott subject wish-list back in 2016.
I know you're super busy these days, Mindy, but would you be open to getting the Office gang back together for a Christmas special? Perhaps John Krasinski is on to something.