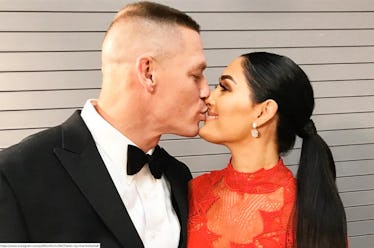 John Cena & Nikki Bella's Sweetest Instagram Moments Will Give You All The Feels
Are you ready to rumble? And by rumble, I mean swoon over the sheer adorableness of wrestling's (possibly back together) golden couple John Cena and Nikki Bella's sweetest Instagram moments.
Some quick background on these two: Cena and Bella, who started dating in 2012 and were set to wed in May 2018, suddenly called off their wedding in mid-April. The news shocked fans of the couple and broke tons of hearts, because, I mean, look at them! Fortunately, it didn't take long for rumors to begin circulating that they were on the road to a reconciliation. While neither Cena nor Bella have confirmed (or denied) the rumors, a source allegedly told Us Weekly that the two are back together, but are using this time to "work on their relationship day by day." (Elite Daily reached out to Bella and Cena's teams for comment but did not hear back by the time of publication.)
Maybe it's corny, but I live for a real-life love story, so I really hope the rumors are true, and I'm rooting for these two to make it. Wonder why I'm so obsessed? Well, just take a look at how adorable they were on Insta! You can see they didn't just love each other, but also really, genuinely liked one another, and that combo is total relationship #goals. Here are some of my favorite moments Cena and Bella have shared on social media. Here's hoping they find their way back to each other soon. We need more precious moments like these.