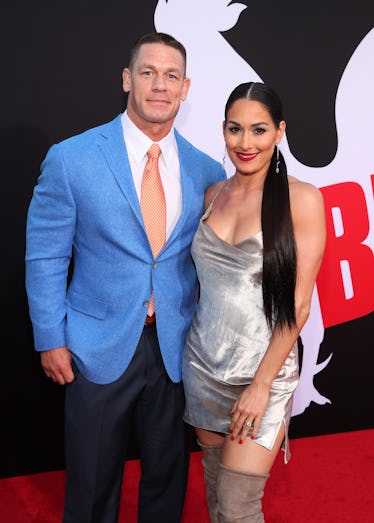 John Cena & Nikki Bella's Body Language Leading Up To Their Split Says So Much
Christopher Polk/Getty Images Entertainment/Getty Images
I'm not going to say I'm obsessed with John Cena and Nikki Bella's relationship status, but, well, OK, I'm obsessed. They just seemed like the perfect couple, based on both the things they've said about one another in the press and John Cena and Nikki Bella's body language on the red carpet. So, when they called off their wedding, I just didn't see it coming. Still, I am holding out hope for these two crazy kids to work it out — and they just might.
But I'm getting ahead of myself. Let's take a step back...
For those of you who haven't been following along with every up and down of this celebrity couple, here's a quick rundown of their relationship. The two met through wrestling and became friends, but they didn't officially begin dating until John finally worked up the nerve to ask Nikki to dinner in 2012. In 2016, the couple blew their fans away when John dropped to one knee in the ring at Wrestlemania 33 and asked Nikki to marry him. In the year that followed, all seemed blissful, as the couple gushed about each other and their wedding plans.
There was one problem though: They disagreed about having children — she wanted them, he definitely didn't — but it seemed that they were at peace about that decision. That is until, seemingly out of nowhere, they announced their breakup just two weeks before the wedding. Fans of the couple were shook. There is some good news though, as there are pretty solid rumors that the couple has secretly reconciled. While neither has confirmed that to the press yet, they have both spoken publicly about how much they still love one another and hope to be back together.
Since they aren't talking, I decided to call in the big guns, aka the body language experts. We asked body language expert and author of Persuasion Point: Body Language and Speech for Influence, Traci Brown, and body language expert Blanca Cobb, to help us figure out if there were any signs the couple was headed for a breakup prior to the wedding, and what we can learn about their chances of getting back together and staying that way. Here's what the experts had to say.