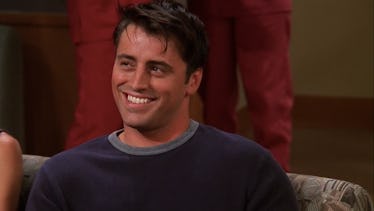 Joey Tribbiani's Best Pick-Up Lines From 'Friends' Are The Inspo You Need To Make A Move
NBC
Odds are, if you're a millennial, then you've seen (or at least heard of) Friends. The hit show from the '90s lasted ten seasons, and with good reason. The characters are honest and relatable, and the vibe between their group of friends is something most everyone wants for themselves. It's basically an ode to friendship, and it was chock-full of some brilliant one-liners. Some of the best? Joey Tribbiani's best pick-up lines from Friends, which is a list not for the faint of heart.
Now, if you're unfamiliar with the sitcom, then first of all, how is that possible? Second of all, worry not. All you really need to know is that the series follows six friends living in New York City as they discover more about themselves, find their places in life, and fall in love. Joey Tribbiani is one of the main characters on the show, and certainly the most charming one, IMO.
While Joey doesn't have one main love interest throughout the show, he certainly tries. And with his sweet smile and brilliant pick-up lines, Joey certainly has a way with the ladies. So, here are a few of his best lines, to inspire you to up your game.