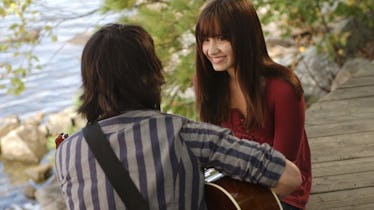 Joe Jonas Tweeted About 'Camp Rock's 10-Year Anniversary & That Means You're Really Old
Disney Channel
"This is real... This is me... I'm exactly where I'm supposed to be..." Ah, do you have chills too? To be honest, that song has made its way from my iPod Nano to my first iPhone to today's iPod 8 and I am never taking it off because every time it comes on shuffle I'm instantly transported to my happy place. The Disney Channel's Camp Rock is forever, but to realize just how classic it really is, let me remind you the TV movie is 10 years old at this point. Joe Jonas' tweet about Camp Rock's 10-year's anniversary will hammer home its age and reveal he's still bitter about the plot... of the sequel.
If you're not a Camp Rock-er like myself, spoiler alert for a movie that inititally debuted on June 20, 2008. Demi Lovato plays Mitchie, a teen with a dream of becoming a famous musician. She goes to music camp under the condition that her mom caters (and she helps) since they can't afford tuition. Obviously keeping that a secret blows up in her face, but she falls for a dude named Shane (Joe Jonas) along the way. At Final Jam (there are various "jams" throughout) he figures out she's "the girl with the voice" he's been looking for when she performs the epic banger mentioned above, "This Is Me."
What Joe is actually referring to are the subsequent events of 2010's Camp Rock 2: The Final Jam (more jams!) where Camp Rock loses to Camp Star in a competetive Camp War battle of the bands. Joe was called out for the tweet, but responded with clarification.
Joe wasn't the only JoBro to celebrate the Camp Rock's milestone anniversary. Kevin took to social media to belatedly lament his hair choices.
Alyson Stoner, who played Caitlyn in the films, also shared a message for fans of the Disney favorite.
Kevin recently opened up to E! News about the possibility of making Camp Rock 3 happen. "Never say never," he teased.
"We talked about it for a minute," he explained. "Doing something ridiculous like an R-rated version now in our life, like a going back to camp kind of thing."
Now that's a pitch audiences would love to see come to life.
Joe brought up the same concept while speaking to Marie Claire last year, noting that they have joked about a darker take on the originals? The DNCE singer divulged,
If it made sense, sure. For all of us — Demi, Nick, it would be funny to do a spin on it. Do the graduating days, make it kind of dark. An adult film. Well, not an adult film. An R-rated film. We've joked around about the idea a couple times.
The pop star behind Mitchie "The Voice" Torres, Demi Lovato, has also weighed in on making Camp Rock 3 a real thing.
"Yes, and we're totally gonna do it. It'd be like American Pie meets Disney Channel… It's going to happen," she commented to Entertainment Tonight in 2017.
Lovato also discussed the potential of a third film in a chat with Ellen DeGeneres the same year.
"All of our fans have now grown up and so anybody but that watched Camp Rock is now older and can now appreciate an American Pie version," she explained. Hmm. This one time, at Camp Rock...
If there's ever a time for revival, it's now. The Disney Channel is bringing back nostalgic faves like Kim Possible (in live-action movie form), working on a Hocus Pocus sequel, and debuting a musical version of Freaky Friday.
Now that it's been 10 years since Camp Rock's debut, let's make a third film happen. At least so Joe can have the chance to undo that ending he's still stewing about...