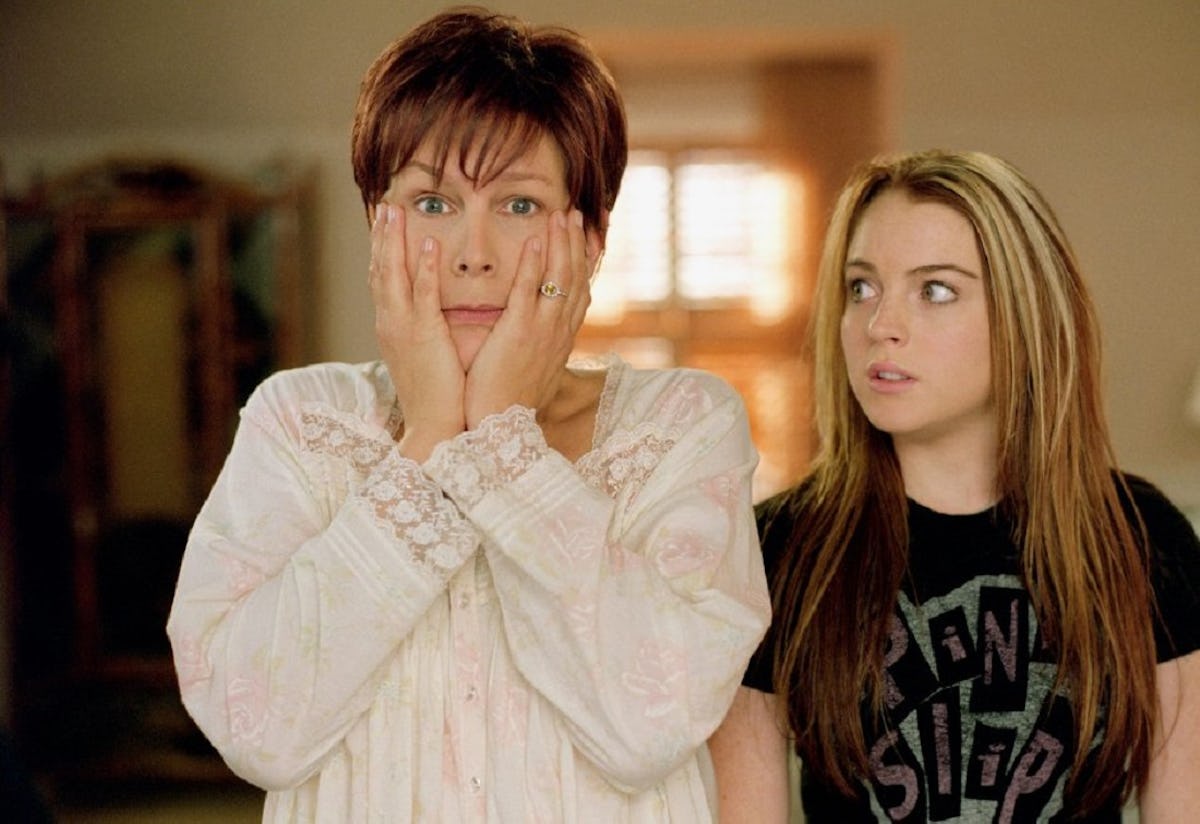 There's Going To Be A 'Freaky Friday' Musical Movie & The Trailer Is Amazing
Walt Disney Pictures
Quote Mean Girls all you want, but when it comes to post-Parent Trap Lindsay Lohan, Freaky Friday is my favorite movie. Give me Grandpa Alan yelling about earthquakes, long-haired Chad Michael Murray, and Mark Harmon playing Anna Coleman's nervous stepdad-to-be any day. If you can't resist a good old mother-daughter switcheroo à la Freaky Friday, you're in luck. Disney Channel has aired the Freaky Friday musical trailer, announcing that the musical version of the classic story will air on the network this summer. I have so many questions about this, but I'm all for this kind of creativity.
While a musical edition of Freaky Friday may seem totally random, the concept has actually been in the works for longer than you'd expect. Playbill reports that the TV movie is based on a stage musical that first debuted in October 2016 at a regional theater in Virginia. Produced by Disney Theatrical Productions (the same company responsible for Broadway productions of Aladdin, The Lion King, and the upcoming Frozen), Freaky Friday performed in three other cities before releasing a digital cast album last year. The musical reportedly turned to all of the story's movie adaptations and the original 1972 book for plot inspiration.
Heidi Blickenstaff, the stage actress who originated the role of mom Katherine, returns to the part in the TV movie. 19-year-old Cozi Zuehlsdorff replaces theater star Emma Hunton as mischievous daughter Ellie.
Whereas the 2003 movie starring Lohan and Jamie Lee Curtis blamed a Chinese fortune cookie for the pair's body switch, the new trailer seems to put a hourglass at the center of the conflict. The promo shows Katherine and Ellie gripping the hourglass together with their eyes closed and screaming when they realize their inner selves have switched with each other.
Seeing as the Lohan movie's detail of the magical fortune cookie truly made the switch seem accidental, I'm curious about this hourglass. What gets them so attached to this object in the first place? Is it supposed to be some family heirloom they're arguing over? Who wouldn't be suspicious of this clearly antiquated hourglass that's just casually hanging around the house?
The movie will include songs from the stage musical, but it's unclear if the Disney film will directly include all elements of the musical. Some aspects of stage productions don't always translate well to the screen, so it'll be intriguing to see if Freaky Friday is going to fully commit to a High School Musical-esque production.
Seeing as millennials are quite protective of the films they grew up with, people reacting to the news of the movie on Twitter aren't exactly thrilled with the news. To be fair, though, I don't think viewers in their 20s are included among Disney Channel's target audience.
However, those aware of the new movie's stage origins seem a bit more optimistic.
A 2016 Washington Post article about the musical shared details of its plot, proving that things similar to the 2003 movie will appear in this adaptation:
[Ellie is a] bored 16-year-old who's still recovering from the death of her father four years earlier. Her mother, a hyper-organized small-business owner, is set to marry a new man and is struggling to keep her family together. On the day of Katherine's rehearsal dinner and an all-night scavenger hunt at Ellie's school, bickering mother and daughter mysteriously swap bodies and have to live out the day in each other's shoes.
So, while Katherine is a widow approaching her second marriage, as Curtis' Tess Coleman was, it seems that Ellie is not an aspiring rock star as Lohan's Anna was in the 2003 movie. Thank goodness, too, because I draw the line at someone trying to recreate Anna's wedding reception performance with her band.