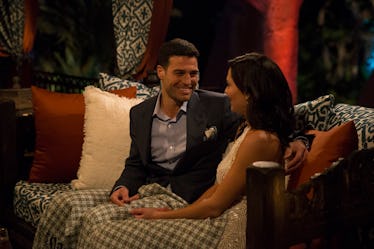 Joe The Grocery Store Guy Posted A Pic With Becca & I'm Honestly Really Sad About It
ABC
I've never been more disappointed in a Night One elimination on The Bachelorette than I was when Becca Kufrin sent Chicago grocer Joe Amabile home in Season 14's premiere episode. Although he initially came across as a punny guy with a very strong Midwestern accent, Joe somehow charmed Bachelor Nation's hearts to become the favorite guy of the night. I'm outlining my rom-com screenplay about Joe finding love with one of his grocery store customers right now, but he's already enjoying some post-Bachelorette perks. Joe from The Bachelorette Instagrammed a picture with Becca, and — spoiler alert — I'm still not over him.
In case you've yet to stumble across Joe's Instagram account, count this as your fiery recommendation to do so immediately. The now 32-year-old is not opposed to some very attractive scruff and messy curls, as some of his more recent photos prove. If my local grocer looked like that, I definitely wouldn't complain about going to the store as often as I do.
E! News reports that this past Saturday, Joe posted an Instagram story of himself and two friends wandering through Chicago. In the clip, he asked Becca, who was evidently touring the city, where she was that day. Later on, Joe posted an adorable picture of them together in a Bloomingdale's. Becca also shared the photo on her own Instagram Story, satisfying plenty of fans desperate for more Joe in their lives.
Aw. Who wouldn't want that megawatt smile in their lives?
There's a fairly strong chance that we'll see more of Joe and his colorful shorts soon. While recently speaking to Entertainment Tonight, Joe admitted that he was up for going on Bachelor in Paradise, and host Chris Harrison already seems to be endorsing him for the show. After Twitter users quickly fell in love with Joe on the night of the season premiere, Harrison tweeted not-so-subtle hints that this wouldn't be the last we saw of Joe.
Seeing as Becca is literally the only one not in love with Joe, she's obviously explained her decision to send him home so early. Speaking to E! News about her choice, she said:
He was great on night one but I could tell he was nervous and I wasn't sure if he could get past the cameras. And it's hard that first night, because I'm really just trying to go off of my gut instinct and there were so many conversations and I had to make a lot of tough cuts. Night one for me happened so long ago and so really I didn't get to know those seven guys... He's a sweet guy. I'm happy that people love him.
On social media, Joe has seemed quite modest about his Bachelorette appearance. When Chris Harrison released the list of this season's cast members in a live Facebook video, Joe posted a video of his slightly embarrassed reaction to his own cast photo.
A similar video posted right before the first episode started showed off his nervous side, as he told a friend he was feeling "not good" about the premiere. Sorry, Joe, but I'm too distracted by your smile to sympathize.
At this rate, it would just be silly for ABC not to cast Joe for Bachelor in Paradise. But then again, I don't know how most fans will react if he makes a true love connection with one of the Bachelor ladies. Let's just say I'll definitely be a little jealous if the Paradise women will see this at their breakfast table each morning.
The Bachelorette returns on Tuesday, June 12, at 8 p.m. ET on ABC.