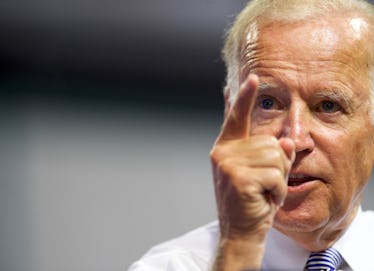 Joe Biden Had A Serious Message About How To Treat Brett Kavanaugh's Accuser
Mark Makela/Getty Images News/Getty Images
Reports about allegations that Supreme Court nominee Brett Kavanaugh allegedly sexually assaulted California professor Christine Blasey Ford in the 1980s, which he denies, have practically broken the internet this week. In this wake of the allegations, several people have swept to Ford's defense, urging the FBI to take her claims seriously and investigate them to the fullest extent — including former Vice President Joe Biden. If you haven't seen it, Joe Biden's response to the Kavanaugh allegations is arguably one of the most serious ones yet.
Biden addressed Ford's allegations during an appearance on NBC's Today show on Friday, Sept. 21, saying that Ford "should not have to go through what Anita Hill went through." He added that Hill, who accused then-Supreme Court nominee Clarence Thomas of sexual harassment in 1991, was "vilified when she came forward by a lot of my colleagues." Thomas denied the allegations at the time, and a representative for the justice did not return Elite Daily's request for comment. At the time of the Hill hearings, Biden was chairman of the Senate Judiciary Committee.
"I think they should do an FBI investigation ... I wish I could have done more to prevent those questions and the way they asked them," said Biden, who presided over both Thomas' confirmation hearings and Hill's testimony. Biden has long faced criticism for the way he handled the hearings, and has since expressed his regret over how Hill was treated. "I hope my colleagues learned from that," Biden continued.
Hill's case has returned to the spotlight amid Ford's accusations against Kavanaugh, which were made public in a Sept. 14 report from The New Yorker. According to Ford, the Supreme Court nominee allegedly pinned her down and tried to force himself on her during a party more than 35 years ago — a claim that Kavanaugh has adamantly denied. "This is a completely false allegation. I have never done anything like what the accuser describes—to her or anyone," Kavanaugh said in a statement, per CNBC. Elite Daily reached out to representatives of Kavanaugh for further comment, but did not hear back.
Since going public with her claims, Ford has been in negotiations for a hearing with the Senate Judiciary Committee, scheduled for Sept. 24, where she and Kavanaugh have both been invited to testify. Ford initially requested a full investigation by the FBI before she would testify, however, many Republicans have made it clear that they believe there is no need for an investigation. Later, in an email obtained by The New York Times on Sept. 20, Ford's lawyer Debra Katz stuck by her client's request, but also said Ford would be open to testifying, as long as she and senators agree on "terms that are fair and which ensure her safety," as Ford has been subjected to death threats and driven from her home since coming forward. However, Katz also said that an appearance on Sept. 24 "was not possible." According to NPR, the committee is expected to announce next steps on Sept. 21.
Until then, it's unclear how this situation will unfold. But if Ford does decide to take the stand, here's hoping that she gets treated fairly. It's the very least we should expect.