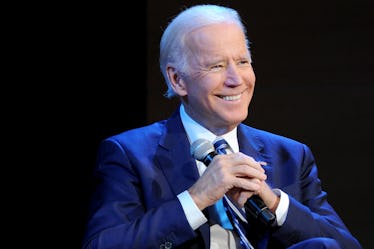 Donald Trump Called Dems "Treasonous," So Joe Biden Called Him "A Joke"
Craig Barritt/Getty Images Entertainment/Getty Images
Joe Biden may be outside of the government (for now), but that doesn't mean the former vice president is done commenting on politics. In fact, he's far from it. Biden was back in the spotlight on Tuesday night, Feb. 6, during an interview with CNN's Chris Cuomo, which touched on President Donald Trump's administration. Cuomo specifically asked what Biden thinks of Trump calling Democrats "treasonous" for not standing and applauding at certain moments during the president's first State of the Union address.
Biden didn't hold back.
After Cuomo noted that a White House spokesman essentially said President Trump's "treasonous" comments were made as a joke, the former vice president responded, "Well let me tell you, he's a joke."
Trump's remarks about Democrats' live reaction to his State of the Union speech came during a rally the president held at a factory in Blue Ash, Ohio on Monday, Feb. 5. Trump visited the midwestern state to tout the results of the GOP's tax legislation.
At one point during his speech, the president segued to the State of the Union address. "You're up there, you've got half the room going totally crazy, wild — they loved everything, they want to do something great for our country," Trump said, per a White House transcript of the speech. "And you have the other side [Democrats], even on positive news — really positive news, like that — they were like death and un-American. Un-American."
It was then that the president went on to label Democrats 'treasonous," a criticism which he appeared to adopt from someone in the Ohio crowd. "Somebody said, 'treasonous.' I mean, yeah, I guess, why not? Can we call that treason? Why not? I mean, they certainly didn't seem to love our country very much," Trump said Monday. "But you look at that, and it's really very, very sad."
During Biden's Tuesday night interview, CNN's Chris Cuomo asked the former vice president to clarify whether he was calling President Trump a joke.
"Yeah, in this kind of stuff," Biden responded. "I think he understands and I think the people around him understand, what presidents say matter. Our children are listening, and the world is listening."
Biden 2020?
Among the topics Biden discussed with CNN was the possibility of the former vice president running for president in 2020. When host Chris Cuomo asked Biden about how a decision on a potential campaign would be made (and about the difficulty of making the decision), Biden said,
Barack, the President, asked me all during the end of the last administration, you know, how do you make the judgment? If I could look in the mirror in two and a half, two years, and walk away knowing I'm not walking away because I'm afraid or I don't have the nerve to try to do the job or I don't want to make the effort, then I will happily walk away. For real.
Biden's remarks about a potential future run at the White House comes just as Politico reports that the former senator has been recruiting donors to raise funds for his political action committee (otherwise known as PAC's). However, Politico also says that some of Biden's targets are reluctant to commit to fundraising with the former vice president because they are unsure of whether he will actually commit to a presidential run or bow out near primary season.
If president were to win the 2020, he would be 82 years old at the end of his first term. Still, Biden has already said once during an interview with Oprah that he carries the regret of not being president.
Whether that regret motivates him to run again remains to be seen.