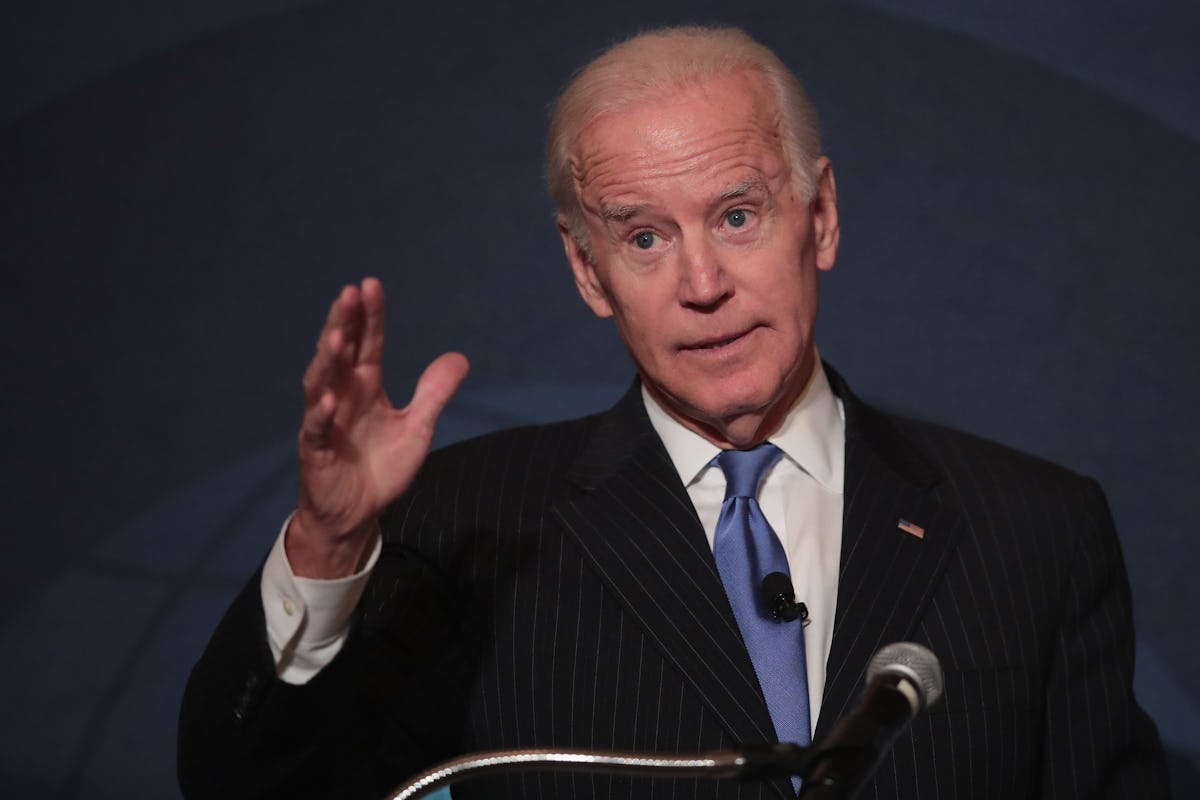 Joe Biden Called Out Donald Trump's North Korea Tweets, & We're Applauding
Scott Olson/Getty Images News/Getty Images
In the single year of Donald Trump's presidency, he's continuously aggravated North Korea (and terrified the rest of us) with insults and threats of nuking the country. Trump's latest Twitter rant against North Korean leader Kim Jong-un has already garnered a lot of attention and criticism, but there was one more warning still to come. Joe Biden called out Donald Trump's North Korea tweets and warned him that his continuous attacks against the foreign leader are "not a game."
On Wednesday, Jan. 3, Biden totally called Donald Trump out in an interview with NBC, and didn't hold back at all. Biden told reporters that he was "disappointed" in Trump's remarks, adding that, "This is not a game. This is not about can I puff my chest out bigger than your chest. It's just not — it's not presidential."
Biden was answering a question about Trump's most recent jab at North Korea, which he tweeted out on the evening of Jan. 2. The former VP said that Trump's tactics show "really poor judgment" because, well, "words matter." And if you ask me, he's right. As entertaining — sometimes — as Trump's Twitter rants may seem, it's pretty scary that he doesn't seem to have any regard for anyone or anything, especially a growing nuclear power who we already know doesn't like us.
Apparently, Trump needs the reality check. In his Jan. 2 tweet, he belittled North Koreans and threatened war on them for the umpteenth time.
He wrote,
North Korean Leader Kim Jong Un just stated that the "Nuclear Button is on his desk at all times." Will someone from his depleted and food starved regime please inform him that I too have a Nuclear Button, but it is a much bigger & more powerful one than his, and my Button works!
Oh yes. Trump blatantly made fun of Koreans and threatened everyone with nuclear war. Just another day.
Trump's latest Twitter attack is in response to Kim's remarks from Jan. 1, in which he warned how real his country's nuclear capabilities actually are during his New Year's Day address. Kim said,
The U.S. should know that the button for nuclear weapons is on my table. The entire area of the U.S. mainland is within our nuclear strike range. ... The United States can never start a war against me and our country.
But the terrifying exchange was just one of many threats of nuclear war that the two countries have exchanged in recent months.
In early August, Trump responded to the news of nuclear tests from North Korea by promising that further threats would be met with "fire and fury," which of course, everyone took to be a threat of nuclear war. And just a month later, on Sept. 19, 2017, he said in a speech at the United Nations General Assembly that the United States would "totally destroy" North Korea if it didn't stop threats against the United States and its allies, referring to Kim by the derisive nickname "Rocket Man." Trump said,
The United States has great strength and patience, but if it is forced to defend itself or its allies, we will have no choice but to totally destroy North Korea. Rocket Man is on a suicide mission for himself and for his regime.
In response, Kim released a statement calling Trump a "frightened dog" and a "dotard."
If it wasn't so terrifying, the schoolyard insults would be almost funny.
Biden's not the only one who thinks Trump needs to be reminded how serious this is. In addition to Biden's warnings, former President Barack Obama offered advice to Trump on the subject during an interview last month, ending his address with a simple message that Trump could really learn from:
"Think before you speak, think before you tweet."
But that warning also seems to have fallen on unwilling ears.
While there's no way to tell if the president will listen to Biden's advice, at this rate, I'd pretty much guess tensions will continue to rise between Trump and Kim. Let's just hope there isn't any button-pressing on either side any time soon.