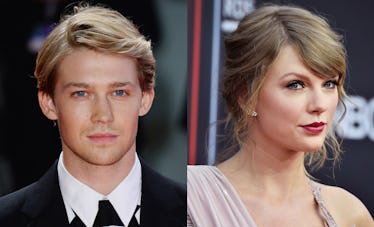 Joe Alwyn Just Opened Up About His Relationship With Taylor Swift For The First Time
Eamonn M. McCormack/Frazer Harrison/Getty Images
Taylor Swift and Joe Alwyn have been dating for about two years now, and they've somehow made it through these past two years without revealing anything about their relationship on a wide public scale. Seriously, these two are as good at keeping their relationship private as the Kardashians were about keeping all of those pregnancies a secret. Swift's bae did speak a little bit about his girlfriend with British Vogue, but Joe Alwyn's comments about Taylor Swift just reinforce the fact that they're going to keep things private.
"I'm aware people want to know about that side of things," he told British Vogue. "I think we have been successfully very private and that has now sunk in for people… but I really prefer to talk about work."
That issssss... very anticlimactic. But props to him for not budging on his and Swift's commitment to their privacy. The rest of the world learned of Swift and Alwyn's relationship in May 2017, but they had already been dating for a long time at that point. They reportedly met and started dating during that time period when Swift went completely incognito following her public feud with Kim Kardashian and Kanye West. They started to allow people to see them together once Reputation dropped and Swift began performing the songs from the album.
One of the first times fans saw the two together was at iHeartRadio's Jingle Ball in December 2017.
They stood in the audience close to the stage while Swift's buddy, Ed Sheeran, performed. Alwyn's face is noticeably like, "Oh god, this is being filmed," but Swift is singing along with Sheeran, seemingly OK with the video being taken. Being seen together at concerts is pretty much the only time fans have been able to see them together (Alwyn went on the road with Swift on her Reputation tour), other than the occasional paparazzi shot of them out and about on a night off.
A source explained to E! News in May 2017 the huge measures Swift and Alwyn took to keep their relationship private. "She has made several trips to see him," the source said, "but always flies in and out on a private jet with lots of security and has been flying into very small and remote airports." They continued, "If she was seen in England, she made sure everyone thought it was a work trip."
Frazer Harrison/Getty Images Entertainment/Getty Images
Eamonn M. McCormack/Getty Images Entertainment/Getty Images
Secrecy was the standard while Swift and Alwyn's relationship was getting started. "Taylor and Joe have really tried to be on lockdown," the source said, "and have spent most of their time together in private locations where they could get to know each other without the pressure of a public relationship and people making judgement calls." Now that they've been together so long and people understand that they're going to continue to keep their relationship mostly private, it's possible we'll see more public appearances from the couple.
Alwyn recently attended the Venice Film Festival for his performance in The Favourite alongside Emma Stone, but Swift was on tour, so no red carpet couple sightings for us. The Favourite is classic Oscar bait though, so if it is nominated for anything, perhaps we'll get to see Alwyn and Swift on some award show red carpets in the near future!