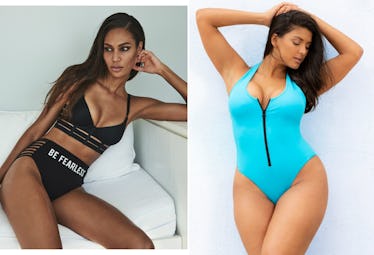 Joan Smalls Has A Swimwear & Lingerie Line & It's So Affordable You'll Cry
Joan Smalls is a world-famous supermodel who has spent her career showing off high-end designer clothing, including Victoria's Secret swimwear and lingerie. She's turned the tables now, though, to design her own. Joan Smalls' Smart & Sexy swimwear and lingerie is, well, smart, sexy, and so affordable.
It's no coincidence that Smalls chose the brand Smart & Sexy as her partner in this design endeavor. Smart & Sexy declares itself "a company by women for women," both in spirit and in practice. For every one of their products sold, the brand "make[s] a donation to an organization that empowers and supports women."
Coming from a world of typical runway-sized models, Smalls has consciously decided to make her products more inclusive. Smalls spoke to Bustle and said, "I want something that my mother can wear, that my sister can wear, that my friends can wear. It just comes from the heart and being thoughtful and mindful of everyone." The products are intended for anyone and everyone who likes them, and with prices starting at $4 (yup, $4!) and capping off at $28, I'd say there's something in there for pretty much everyone. There are no official plus sizes in the line as of now, but many of the items go up to XXL and 44C for bras, so it's at least off to a good start. Check out the über-affordable, smart, sexy pieces below!
Zip-Up Front One Piece Swimsuit in Turquoise
The front zipper on the one-piece is sultry AF. It's up to you how much you zip it up (wink, wink).
Triangle String Bikini Top in White
To me, one of the sexiest (have I overused that word, yet?) bathing suits is a simple string bikini. Wear this triangle top with the matching French Cut Bikini Bottom in White ($10; smartandsexy.com) and you'll be stylin' all summer long.
Fishnet Swim Coverup in White
Smalls even thought to include a beach coverup in her collection, what more could you need?
Strappy-Back Lace Light Lined Bra in Safety Yellow Lace
What would a former Victoria's Secret model's collection be without some lingerie? In a conversation with Bustle, Smalls says of the collection,
I know women want to feel beautiful regardless of their size, and I know that not everyone's built like me, and they're not meant to be. I celebrate women when they're confident in their own skin, in whatever size they are, whatever shape they are. That, to me, is beautiful.
The above bra also has a corresponding Lace Tanga Panty that are only $6 (smartandsexy.com) so I'll take one in every color, please!
Strappy High-Waisted Panty
Some of the collection is also sold at Walmart, including this pair of "Be Fearless" high-waisted briefs. There's also a bondage-inspired Caged Longline Push-Up Bra ($24; walmart.com) to wear with it for a really bad*ss look.
Signature Lace Tanga Panty in Grisaille Grey
A pair of sexy AF underwear for less than my morning cold brew coffee? I'm so in.
Werk. It. Girl.