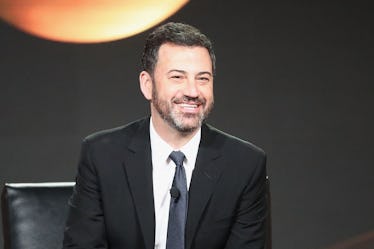 Jimmy Kimmel Is Interviewing Stormy Daniels Soon, So Stay Tuned
Frederick M. Brown/Getty Images Entertainment/Getty Images
After President Donald Trump delivers his first State of the Union speech, ABC will air an after show that may just attract as much interest. Jimmy Kimmel will interview Stormy Daniels after the speech, the host announced on Twitter. Daniels, born Stephanie Clifford, is alleged to have had an affair with Trump in 2006, when he was a private citizen.
On Thursday night, Jan. 25, Kimmel tweeted, "I am pleased to announce that the very gifted [Stormy Daniels] will be on #Kimmel Tuesday 1/30 after the #StateOfTheUnion. I have MANY QUESTIONS! #MAGA"
Variety also confirmed that Daniels will be interviewed by Kimmel, citing a spokeswoman for the show. The State of the Union is scheduled to take place on Tuesday night, Jan. 30. The interview with Kimmel is slated to be Daniels' first television appearance since she became the subject of multiple reports about an alleged sexual relationship between herself and Trump.
The Wall Street Journal was the first to publish a story about Trump and Daniels, a former adult film star. According to The Journal, Trump lawyer Michael Cohen arranged a payment of $130,000 to Daniels in the weeks leading up to the 2016 election, all in exchange for not publicly discussing the details of an affair that is alleged to have taken place a decade prior. Cohen, Daniels, and the White House have denied all allegations.
The New York Times would soon corroborate The Journal's story, reporting that Daniels was in talks to share her story with ABC prior to the presidential election. Days later, The Wall Street Journal published another report, this time detailing the method Trump's lawyer allegedly used to pay Daniels. According to The Journal, Cohen used a Delaware limited liability company to funnel money to Daniels' lawyer.
A day after The Journal reported that Cohen used an LLC, In Touch magazine released an interview it says was conducted in 2011, featuring quotes from Daniels in which she claims to having a sexual relationship with Trump, shortly after wife Melania Trump had given birth to the couple's son, Barron.
According to In Touch's lengthy transcript, Daniels detailed how she met Trump. The former porn star is quoted as saying,
It was a charity golf tournament in Lake Tahoe. I guess he was there to play golf, and I was there because the company I worked for was doing an appearance in the gift room. The first time I met him was actually out on the course. They brought us out to ride around and he kept looking at me and we were introduced. He was introduced to everybody. He kept looking at me and then we ended up riding to another hole on the same golf cart together and he's like, 'I want to come talk to you later.'
Later in the transcript, Daniels is quoted as sharing details about what she was thinking after allegedly engaging with Trump.
"I remember thinking, 'I hope he doesn't think I'm a hooker.' Not that I have anything against hookers," Daniels is quoted as saying. "I just personally have never done it. Still, I have no idea why I did it. Honestly, I really don't."
In the aftermath of multiple outlets reporting about the alleged affair, Daniels has not conducted an interview with any outlet, though she did make a public appearance at a strip club in South Carolina.
On that occasion, she only offered a few words of comment to The New York Times, telling the paper that the reporting about an alleged Trump affair had resulted in a "stressful" and "amusing" week for her.
With an appearance on Jimmy Kimmel's show now slated to happen, she appears bound to share much more than that.