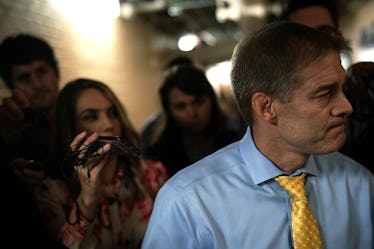 Former College Athletes Claim This Congressman Knew About An Alleged Sexual Abuse Scandal
Alex Wong/Getty Images News/Getty Images
A Republican congressman, who once served as an assistant wrestling coach at Ohio State University, is fending off accusations that he knew about an alleged sex abuse scandal at the university. The congressman is Ohio Rep. Jim Jordan, whom four former Ohio State University athletes claim had knowledge of alleged abuse committed by a team doctor. In response to the allegations, Jim Jordan has denied any knowledge of the alleged sexual abuse at Ohio State.
A spokesperson for Rep. Jordan told Fox News, "Congressman Jordan never saw any abuse, never heard about any abuse, and never had any abuse reported to him during his time as a coach at Ohio State."
On Thursday, July 5, Fox News reported that it had obtained emails that had reportedly been sent from a former Ohio State wrestler to Rep. Jordan, urging the congressman to "cut through the BS at Ohio State," an apparent plea to speak up about details of alleged abuse at Ohio State.
Earlier on Thursday, Jordan himself spoke to reporters about the claims that he was privy to allegations of sexual assault on campus. "It's absolutely untrue the things that have been said about me," the congressman said. "If there had been any reports of abuse, I would've reported it. [Former head coach Russ] Hellickson said the same thing."
Rep. Jordan's tenure as an assistant wrestling coach at Ohio State was between 1986 and 1994. Prior to his arrival at Ohio State, he had been a two-time Division I national champion as a wrestler.
According to the Associated Press, male athletes across 14 different sports at Ohio State University allege that sexual abuse was committed by Richard Strauss, a doctor who was formerly employed by the university. The alleged sexual abuse at Ohio State University is already the subject of an investigation being conducted by a law firm that was commissioned by the school to look into the accusation.
Strauss died in 2005 and his death was ruled a suicide, the Associated Press reports. He served as an Ohio State staff member between 1978 and 1998.
The accusation that Rep. Jordan knew about allegations against Strauss is a story that will certainly attract more headlines in days to come. Rep. Jordan has been touted as potential successor to Wisconsin Rep. Paul Ryan, who will step down in January 2019, to be Speaker of the House.
During a rally on Thursday night, President Trump remarked on the accusations against Jordan.
"I don't believe them at all. I believe him. Jim Jordan is one of the most outstanding people I've met since I've been in Washington," Trump said. "I believe him 100 percent. No question in my mind. I believe Jim Jordan 100 percent. He's an outstanding man."
Congress members return from recess on Tuesday, July 10, and, as Ohio State continues to investigate allegations against Strauss, Rep. Jordan is certain to be asked about the claims that he knew of alleged abuse once he speaks to Capitol Hill reporters upon returning to Washington D.C.
It's also notable Jordan hasn't just denied that he knew of alleged abuse, he has also suggested dishonesty on the part of the law firm that has been commissioned to investigate the abuse allegations.
"The law firm who is doing the investigation said that they tried to contact us and we wouldn't respond — we have no record of that, and what we got from yesterday is that they sent the correspondence to an email that doesn't exist," Rep. Jordan said on Thursday, while visiting a charity in Spencerville, Ohio.
In response to a request for comment, Ohio State referred Elite Daily to comments made to USA Today by Kathleen M. Trafford, a spokeswoman for the law firm Porter Wright Morris & Arthur, which is representing Ohio State.
"While the independent investigators reviewing allegations of sexual abuse by the late Dr. Richard Strauss attempted to contact Representative Jim Jordan by these emails and a follow up phone call on June 12, it appears that Representative Jordan did not receive these messages," Trafford said. "We are communicating on next steps with his office now."
Jordan also added, "All I can do is tell the truth, and we've said that we're happy to sit down within the firm doing the investigation. As I said though, I find it interesting that they can't find a Congressman's email address."
Regardless of whether Jordan had prior knowledge of the allegations or not, his proximity to the Ohio State story brings attention to what has become a trend at universities: retrospective investigations of alleged sexual assault within college sports teams.
Texas A&M is one such university. During an interview in June on ESPN, a former student accused coaches of telling players to keep quiet about sexual assault committed by baseball athletes against softball athletes. Both the coaches of the baseball and softball team at the university deny they had prior knowledge of such sexual assault allegations.
In January, the sentencing of Larry Nassar, a former athletic doctor at Michigan State University and USA Gymnastics, who was accused of abusing over 100 female athletes, was the subject of national news.
Now, an investigation of sexual abuse allegations at Ohio State has the spotlight, a spotlight which is likely to stick around as a congressman denies he knew about the accusations when he worked at the university.