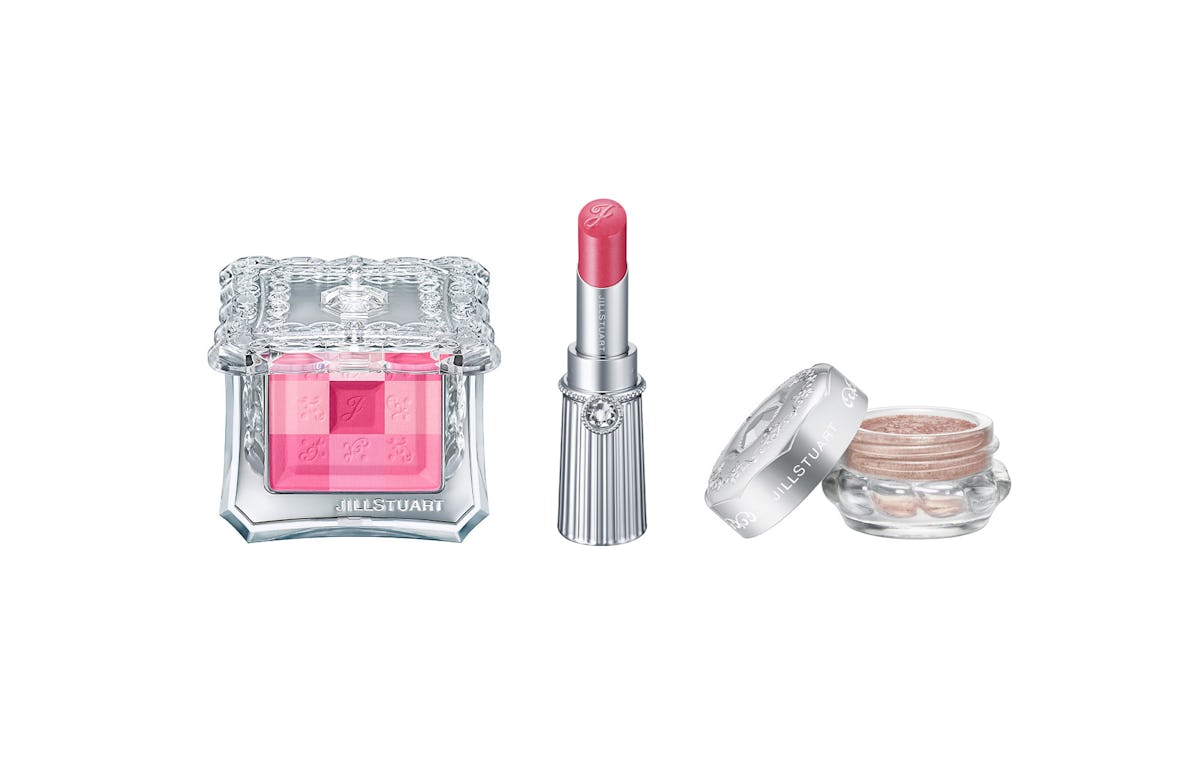 Jill Stuart's New Beauty Line Will Make You Feel Like An IRL Princess
Jill Stuart
When a successful high-brow fashion label launches beauty offerings, you pretty much know they're going to be ace. Chanel, Marc Jacobs, Dior—they're some of the best brands out there when it comes to makeup, skincare, and fragrances. Jill Stuart Beauty, which just launched last week, looks to be no different and is guaranteed to soon top the must-have lists of celebrities, bloggers, makeup artists alike. And, after reading this, it'll probably top yours, too.
As a fashion label, Jill Stuart is known for designs that are fresh, feminine, and wearable. It seems the brand's beauty line will be following in its legacy, while also drawing inspiration from one of Asia's beauty hotspots. "The collection features whimsically feminine and stylish beauty products with superior technology from Japan," explains the brand in a press release. "The formulas are soft, smooth and melt into the skin, creating a glow-from-within look that makes you feel like a modern princess."
Comprised of everything from lipsticks and blush compacts to mascara and eye shadow, the collection offers a full spectrum of products, with foundations and concealers being the only notable exceptions. (My bet is they're on their way!) Each product comes in super sweet and ornate packaging, akin to something you might see in a European antiques store. Considering the collection's tagline is "Beauty for the modern vintage princess," it makes total sense.
Shop standout products from the collection below and give yourself the royal treatment.
Pucker Up
This hydrating lipstick was formulated with a blend of lavender, rosemary, avocado, and almond oils, which allows the product to melt softly and smoothly into your pout. Its color is sheer yet buildable and finishes off with a slight shine thanks to glowing shine oil. The best part? Each Lip Blossom features a Swarovski crystal and built-in mirror in the cap—luxe convenience at its best.
Starry Eyed
Available in five shades (think pink/ peach/ brown), this soft, lightweight gel eyeshadow is the perfect way to infuse your makeup look with a subtle amount of shimmer. It boasts a wet, glossy finish and is formulated to ensure your lids stay hydrated and crease-free. As an added bonus, it's infused with Jill Stuart's signature light floral scent, Crystal Floral Bouquet. Because you never know when your next close encounter might be.
Yep, my 10-year-old, Dress Up-playing self would have lost it over this product! The loose powder blush is formulated with a blend of oils to ensure it melts right into your skin and is easily applied with a cute wand-like puff stick. Could it get any cuter?
Lash Out
This waterproof mascara promises long lasting wear that will curl and enhance your natural lashes. It's made with a unique three-fibers formula, which builds "soft but strong and long lashes" while also preventing clumping.
Getting Cheeky
This build-able cheek color palette features six different hues in nine blocks, meaning you can mix-and-match pigments to your liking and create the perfect flush for any occasion. It's super blendable, boasts a semi-matte finish, and is guaranteed to stay all day.