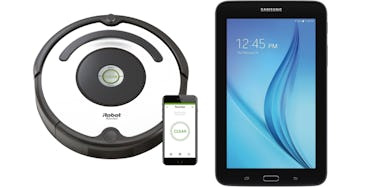 You Can Score Deep Discounts On These Top Tech Gadgets During Jet's Black Friday Sale
OK, if you're anything like me, you might be feeling overwhelmed by all of the Black Friday deals that are floating around out there. Well, I've got one more to add to your pile from Jet's Black Friday 2018 sale. The online retailer just revealed major savings on your favorite tech products as a part of the company's Black Friday 2018 sale. I've gone ahead and rounded up some of the tech top products from Jet's Black Friday 2018 sale, so you don't have to do the work. (You can thank me later). Here's what you should be on the lookout for.
Jet's Black Friday 2018 sale is shaping up to be very legit. The best part? You don't have to wait until Black Friday to snag these deals. According to the company, all of their Black Friday deals will be live starting on Wednesday, Nov. 21 at 10 p.m. This way, you don't have to spend your entire Thanksgiving scrambling between bites of turkey and clicking the buy now button in the checkout section. Here are just some of the incredible discounts on top products that you can snatch up this holiday shopping season:
That's not all. There are a plethora of other Black Friday deals that can be found on Jet's website. Here are a few of my favorites from Jet's Black Friday 2018 tech sale.
If you can't wait until Black Friday to get started on your holiday shopping, Jet has several great electronics deals that are live right now, including:
Oh, and if you live in New York City, you might be eligible for same or next day shipping on many of Jet's products. Per Jet, the promotion is only open to residents who live in select NYC zip codes, so make sure to check and see if your residence is included before you place your order. It doesn't seem like the shipping deal applies to Black Friday purchases, though. According to Jet, same or next day delivery in NYC kicks off at the beginning of December and can only be used on "electronics, toys and prestige beauty products." The fast shipping deal is valid until Christmas Eve, which takes place on Monday, Dec. 24. Regardless, if you're someone who waits until the very last minute to do your holiday shopping, Jet's shipping promotion was made just for you.
If you don't live in NYC, not to worry. Jet offers free shipping on all orders of $35 or more. The company also does free returns, so you can send back anything that you don't love. With Jet's Black Friday sale on top tech products, you should be able to get everyone on your gift list exactly what they want.