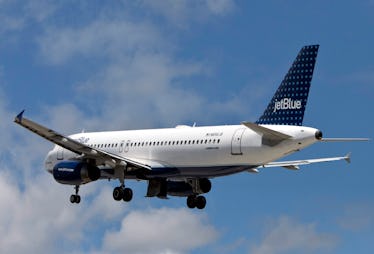 You Can Save $150 On Your Disney World Vacation With JetBlue's Thanksgiving Sale
Allison Joyce/Getty Images News/Getty Images
Thanksgiving is over; December is right around the corner; and the holiday season frenzy is about to begin. If you're anything like me, you love the hustle of the holidays — the countless deals and sales, an increased amount of family time, an uptick in holiday tunes — but all the energy and chaos that comes with end-of-year festivities can be a little exhausting. What better way to unwind from holiday mayhem with a little getaway? If you want to same money, too, JetBlue's Thanksgiving 2018 sale will save you $150 on vacation packages. So, get yourself or a loved one a vacay package and make everyone's getaway dreams come true!
Thanksgiving weekend usually comes with deals on Black Friday and Cyber Monday, with plenty of savings to be had in between. JetBlue got in on the action with a with huge savings on different vacation packages. Through Sunday, Nov. 25, shoppers can save $150 on their flight and hotel accommodations for any JetBlue vacation package valued at at least $1,750. All you need to do is use promo code "GRAVYBABY" to take advantage of the savings.
In addition to the $1750 minimum you have to spend, there are a few other limitations, per the description of the deal on the JetBlue website. Each person can only receive one discounted booking, the discount cannot be applied towards taxes or any kind of baggage fee, and you must travel between Nov. 25, 2018 and Sept. 3, 2019. Again, the offer is only available for a limited time — shoppers have to book by 11:59 p.m ET on Nov. 2.
So, if this deal appeals to you, move quickly because it won't last for much longer! Unfortunately, if you've recently booked a vacation package with JetBlue the discount cannot be applied retroactively, but the savings would still work if you gifted a friend or family member (or yourself) a different vacay for the holidays.
Don't know where to go? According to Skyscanner, top JetBlue vacation packages include Barbados, Universal Orlando Resort, Bahamas, Walt Disney World, Aruba, and West Palm Beach, so if you live in a cold climate, this deal may be a great way to beat the winter blues. Besides saving $150 on travel, JetBlue makes the case for you to buy the company's vacation packages with other perks available to travelers.
For example, JetBlue guarantees savings for those who book flights and lodging together, travelers can earn and redeem TrueBlue points for future travel (six points for every one dollar they spend), and the company offers 24/7 customer support for people who want to make changes or have questions about their travel, per the JetBlue website. In addition to these perks, JetBlue has a "Best Price Guarantee" that claims:
JetBlue Vacations offers you Best Price Guarantee on all JetBlue Vacations packages originating from the U.S. (including Puerto Rico). If by chance you find the same package on another website at a lower price within 48 hours of your purchase, we'll refund the difference.
If this sale isn't quite right for you, worry not. JetBlue is always having deals and discounted travel. Earlier this month, the company announced its "Southern Charm" sale, offering $54 flights to the South. In October, JetBlue was selling some tickets around the U.S. for as low as $20 for routes like Boston to Philadelphia and trips to overseas destinations like New York to the Dominican Republic for $90.
So whether you're shopping for a loved one or anticipating needing a vacation for yourself, hop on this JetBlue sale before time runs out. As it gets colder and darker outside, remember — warmer waters are just a plane ride away.