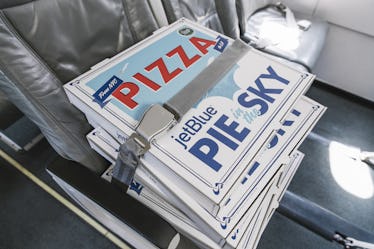 JetBlue Is Doing Pizza Deliveries Via Plane, So Order Your Favorite New York Pie
JetBlue
Aside from puppies (and also maybe tequila), few things in life are better than an authentic slice of New York City pizza. Going to college five hours outside of the pizza capital of the United States was absolutely devastating, and at this point, there's nothing that can tear me apart from a signature NYC slice. If you ended up moving all the way to the West Coast and are really missing that good old thin crust, a certain airline has a surprise for you. JetBlue's Pie In The Sky pizza delivery is sending classic New York City pies to Los Angeles. Honestly, it's one of the greatest services known to mankind.
Attention La La Land residents: On Wednesday, May 2, JetBlue officially announced a new limited-edition pizza delivery program called "Pie in the Sky." Living up to its name as "New York's Hometown Airline," JetBlue will fly out authentic Patsy's Pizzeria pizza from JFK to LAX, according to a press release. The program will only last between Wednesday, May 9 and Friday, May 11, and availability is based on a first-come-first-serve basis, as only 350 orders will go out per day. So definitely get on that before it's too late.
To snag a limited edition Pie In The Sky pizza, Los Angeles residents can visit the Pie In The Sky website and validate their zip code to make sure they're "in the delivery zone." Once the zip code is approved, customers will be able to choose between one 16-inch plain cheese pizza (which costs $12), or a pepperoni pie which goes for $15. Ordering will officially open at 12 a.m. PT each day, and it'll stay open until the 350 pie quota is met.
After ordering, customers will be able to track their pie online as it flies from coast to coast. Per the release, once the pie's flight has landed, each customer will receive an ETA, which will be between 7 p.m. PT and 10 p.m. PT. Luckily, it'll arrive just in time for the perfect dinner, or even for a late night snack. And since 'Gramming your cross-country 'za is absolutely necessary, make sure to tag #JetBluePieInTheSky and make everyone extra jealous.
Elizabeth Windram, the vice president of marketing at JetBlue, totally knows what's up in the world of 'za. In the press release, she made a statement saying that there's truly nothing like a thin crust slice of pizza, and that JetBlue's coast-to-coast delivery is a great way to share New York City's glorious treasures with the rest of the country.
Windram said, "As New York's Hometown Airline, we know there's no slice like a New York slice. In creating the first-ever coast-to-coast pizza delivery by an airline, we're bringing the best pizza to Los Angeles to share an authentic taste of our home."
Also, since I have pizza on the mind, I have to share Pizza Hut's latest creation with you. In honor of its 60th birthday, the pizza chain released a Double Cheesy Crust Pan Pizza, which basically combines its signature pan pizza with its stuffed crust. And yes, it's as delicious as it sounds. The Hut's official birthday was Monday, April 30, 2018, and it was undoubtedly one for the books. Not only does its new pie pack a powerful cheese pull, it can also be topped with absolutely anything. If you haven't tried it yet, you need order one ASAP.
If you're all the way out in Los Angeles eating mediocre pizza and enjoying the sunshine, now you can eat great pizza and enjoy it in the sunshine, all thanks to JetBlue. There's seriously nothing quite like New York pizza, and now, pizza lovers can eat it anywhere they go. It's a cheese-lovin' miracle.