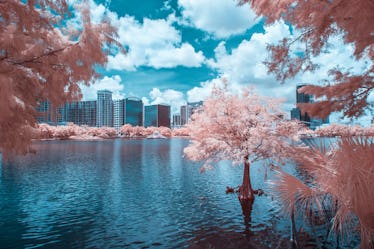 You Can Fly To Florida For $44 This Winter With JetBlue's Latest Flash Sale
Let's be real: Planning a vacation during the holiday season sounds extremely stressful. If you're anything like me, your bank account is at an all-time low and your schedule is packed to the brim. The mere thought of booking a trip amidst the winter chaos is a tad overwhelming (even though I'd *love* to take a vacation right now). Thankfully, JetBlue's Hot Cocoa, Fares Loco sale is making it possible for everyone to travel at a super low cost. Like, I'm talking plane tickets that are less than $50. They're that cheap — and taking advantage of the sale probably won't put a dent into your holiday shopping budget.
Let's swing back to the whole "tickets that are less than $50" thing. I wasn't exaggerating when I said that, because JetBlue's sale is offering one-way tickets for as low as $44, like this flight from Atlanta Georgia, to Orlando, Florida. That's not the only cheap deal, though. Another $44 flight leaves from Worcester, Massachusetts and lands in New York, New York. For only $5 more, you can grab a $49 flight from Boston, Massachusetts to Buffalo, New York, or from Long Beach, California to San Francisco, California. As you can see, the "under $50" possibilities are ongoing, so scan JetBlue's sale page and choose the one you want.
Of course, there are other flights on sale that cost more than $50 — but they still won't break your bank. Take this $69 flight from Chicago, Illinois to Fort Lauderdale, Florida, or this $59 flight from Las Vegas, Nevada to Long Beach, California. See? They're cheap AF. I can spend all day listing discounted flight deals for you, but it'd probably be easier if you checked 'em out for yourself. In order to do so, visit JetBlue's sale page and scroll down until you see a list of the deals. The list will provide you with an origin city, a destination city, flight prices, and hotel prices — but if you'd rather not scan, you can always do a quick search at the top of the page.
OK, now that you know how to look for discounted JetBlue flights at an airport near you, you should probably know about some of the sale's rules. For starters, you only have until Thursday, Nov. 29 before 11:59 p.m. local time to book your discounted flights. Sure, that doesn't give you too much time to plan your winter getaway — but you can always buy now and plan later, right?
Another important thing that you should keep in mind is the sale's travel time frame. According to JetBlue, travelers can purchase tickets and fly between Jan. 8, 2019 and March 14, 2019. That gives you just enough time to book a winter trip before springtime arrives in late March. However, keep in mind that the sale does have blackout dates, which are from Feb. 16, 2019 to Feb. 25, 2019.
As you can see, you have a ton of flight options and travel flexibility with JetBlue's Hot Cocoa, Fares Loco sale. Go ahead and take a break from holiday shopping and purchase a round-trip ticket for yourself. You'll be happy you did it when you're enjoying your post-holiday vacation in early 2019.