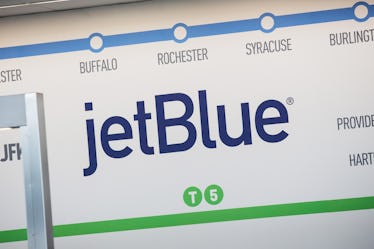 You Could Win Free Holiday Flights This Year With JetBlue's Go Get Gifted Contest
Andrew Burton/Getty Images News/Getty Images
It's always nice to go home for the holidays. You can lounge in your pajamas all day long, feast on your mom's favorite sides, and catch up with that group of cousins you only see once a year. But there's no getting around the fact that the holiday season is one of the most costly times of the year to travel. To help offset the hefty travel price tags, I present you with JetBlue's Go Get Gifted contest offering free 2018 holiday flights. The airline's giveaway will definitely make your upcoming travel plans so much easier.
JetBlue's Go Get Gifted Contest gives you a shot at winning a complimentary flight home on Monday, Dec. 24 this holiday season. Five lucky participants will be selected to win two roundtrip tickets to and from the destinations of their choice (one for you and one for a companion to travel with). The giveaway began at 11 a.m. ET on Wednesday, Nov. 28 and ends at 11:59 p.m. ET on Wednesday, Dec. 12, according to the airline company. You must enter the contest on JetBlue's website in order to have a shot at winning. It's pretty simple to enter. To start, you will need to give JetBlue your first name and last name, valid email address, departure city, and destination city.
The real kicker here is that, if you win, JetBlue will wrap you up like an actual present. Why? Because you're the best gift of all, of course. The idea behind JetBlue's Go Gifted Contest is to deliver five lucky holiday shoppers to their loved ones as a gift. When you apply can even let JetBlue know how you'd like to be gift wrapped right down to the type of wrapping paper and bow style. This is the second part of the application process.
There are six holiday wrapping paper designs to choose from. Each wrapping paper pattern mimics JetBlue's usual color scheme with plane patterns, plaid, stripes, and other festive designs. You also have a say in how you want to be "presented." The wrapping options are: "The Mummy," "The Burrito," and "The Boxer." Don't worry — you'll be wrapped after your flight, but good luck carrying your bags. Oh, and would you rather put the bow on your head? Or maybe on the front of your face? You can also request to wear it as a bow tie. It is totally up to you.
Now, for the final step of the application. It is time to get creative because you've only got 280 characters to let JetBlue know why they should choose you as one of the five winners to fly home for free this holiday season. Think of it like writing a tweet (which also have a maximum character count of 280). Make sure you demonstrate why it's important for you to get home and deliver yourself as a life-sized present to a loved one this year.
Once you've submitted your application, it's time to sit back and wait. According to JetBlue, contest winners will be notified via email by Saturday, Dec. 15, so keep an eye on your inbox in case you hit it big. Remember, your departure flight must be used on Tuesday, Dec. 24 (Christmas Eve). The holiday season reminds us that it is not always about what's under the tree. Sometimes the best gifts are the people we love the most. Especially when they arrive as life-sized presents.