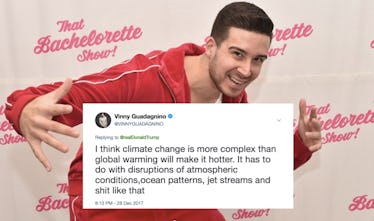 Vinny From 'Jersey Shore' Schooled Trump On Climate Change With This One Tweet
THEO WARGO/GETTY IMAGES ENTERTAINMENT/GETTY IMAGES
Jersey Shore has been back on everyone's minds since it was announced in November that the show would be returning for a reboot in 2018. While there's been tons of speculation about what's to come in the reunion, the show is currently making headlines for a totally different reason. On Dec. 29, President Trump took to Twitter once again to deny climate change. While a number of people responded and corrected him, one person in particular stood out: Jersey Shore's Vinny tweeted to Trump about climate change, and the internet totally had his back.
So how did this happen? It all started when some parts of the United States —primarily the Northeast, the Midwest, and some areas of the South — began experiencing freezing cold temperatures. Rather than offer suggestions for staying warm or safety measures to take in the freezing temps, the president took the opportunity to push his own agenda, highlighting his decision for the United States to pull out of the Paris Climate Accord. The Paris Climate Accord is an agreement that deals with mitigating greenhouse gas emissions and taking other measures to curb climate change, starting in the year 2020. The United States is the only country in the world to withdraw.
Those who have studied climate change for years understand that it is about much more than warm temperatures versus cold temperatures, and that extreme temperatures can actually be an affect of the phenomenon.
While some were quick to insult the president and his lack of understanding about what climate change actually is, Jersey Shore's Vinny stepped in and took a much more civil approach, calmly citing the number of factors and effects of global warming that exist beyond the actual temperature outside.
Nothing but respect for MY favorite Jersey Shore cast member! TBH, Vinny always seemed the most level-headed to me. Although everyone had their redeeming moments, he was consistently kind and concerned about all of the cast members — not just himself. This totally translates to his desire to keep learning about the world around him to be a better citizen.
*Jersey Shore theme song voice* Go, Vinny! Go, Vinny!
Twitter users quickly jumped in and expressed their support, with some noting how much they loved him in the classic MTV series.
Others showed support by pointing out the fact that Vinny has a better understanding of environmental science than the president.
It's definitely a bit scary that someone who we used to watch on TV knows more than the president — until you remember that someone we used to watch on TV is the president.
While he appreciated the love, Vinny was quick to defend himself in the face of the somewhat back-handed compliments. He pointed out in a second tweet that people can be educated and still enjoy going out and having a good time. We're complex beings, y'all!
He also later noted on his Instagram that he is "not even a Trump hater," but that he simply disagreed with something that the president said.
Vinny is more than just a concerned citizen. According to Us Weekly, he graduated from CUNY College of Staten Island with a 3.9 GPA. Oh, and he did it in three and a half years — and he was a Political Science major. OH, and he once interned for a New York State assemblyman. So as it turns out, he actually might be more qualified to angrily tweet at the president than the rest of us.
Vinny will return to Dirty Jersey once more for Jersey Shore Family Vacation, along with Snooki, JWoww, The Situation, DJ Pauly D, Vinny, Ronnie, and Deena. Fans of the show have noted that Sammi will not be returning to the show, possibly as a result of her tumultuous relationship with Ronnie, which was the center of much of the show's drama. I'm definitely curious to see how the cast members interact with each other now that so many years have passed, and if any old grievances will be aired. Maybe we'll see some heated political debates instead of fist fights on the boardwalk.
Check out the entire Gen Why series and other videos on Facebook and the Bustle app across Apple TV, Roku, and Amazon Fire TV.