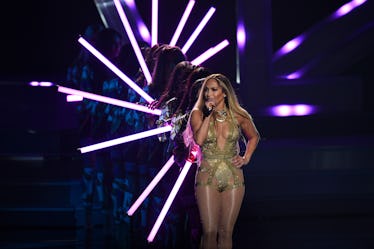 Jennifer Lopez Declared Her Love For Alex Rodriguez In Her VMAs Speech
Theo Wargo/Getty Images Entertainment/Getty Images
Jennifer Lopez received the Michael Jackson Video Vanguard Award at the 2018 MTV Video Music Awards, and her speech was super emotional and inspirational. In her speech, Lopez thanked her children, her behind-the-scenes team, her friends, and family. She also gave a special thanks (and lots of love) to her current boyfriend Alex Rodriguez. Overall, Jennifer Lopez's VMAs Video Vanguard Award speech really showed how deserving of the accolade she truly is.
Before accepting her award, Lopez stormed the stage with an incredible medley of all of her best songs. It was pure fire, and she had most of the audience on their feet. Oh, and the choreography was out of this world. I mean, Lopez is 49 years old, and she can still put today's young dancers to shame. DJ Khaled and Ja Rule even showed up to assist her in her performance. It was an amazing show to watch all-around.
People like Camila Cabello, Cardi B, and Tiffany Haddish were all cheering Lopez on from their seats. I even spotted Lopez's kids and mother in the audience enjoying her performance. And Rodriguez was there with a huge smile on his face as well.
When it came time for her to accept her award, the audience went quiet to let her speak. Lopez's emotional speech went on for just a few minutes, but she spent those minutes wisely. Here's what she had to say:
It has been an incredible journey of dreaming my wildest dreams and then kind of watching them come true ... This career has always been kind of an obsession for me. When people said, 'You're doing too much. You can only do one thing. I always had it in my mind - I was always the kind of person who said, 'Why not?'
For the last 20 years, my core people who have been with me these past two decades. My lovers, my J-Lovers, my dreamers, my friends my family, who helped me to never lose focus. You know you gotta stay focused.
I have to say I love you and I thank you to Benny Medina, for 20 years of fighting for me and loving me. And believing in me. Every day since I first played you that rickety demo of the first song I ever wrote. I would not be here if it was not for you
And here's what she had to say about Rodriguez:
Alex, you're like my twin soul. We're like mirror images of each other. My life is sweeter and better with you in it because you remind me the sky is not the limit ... There is so much more to experience and there's no one I'd like to experience it than with you.
The 49-year-old singer, actress, and TV competition judge has done a lot over the course of her career. She's been in the business for over 20 years, and this particular award is the culmination of all of her hard work in the music industry.
Through it all, Lopez has proved she's still "Jenny from the Block" and that she's as humble as ever, despite her millionaire status. She keeps it real at every turn, and her speech at the VMAs was no different. The Michael Jackson Video Vanguard Award was presented to Lopez by none other than Shawn Mendes.
To some, Lopez was a totally unexpected pick for the Video Vanguard Award. While some people don't necessarily think of her as a music icon, the fact remains that she's sold over 80 million records worldwide, according to Variety, not to mention three of her albums have gone to number one. And she's made some incredible music videos to boot. "Waiting for Tonight," anyone? What about "Love Don't Cost a Thing"? Yeah, they're oldies at this point, but they're still amazing.
Not familiar with those? Don't worry, I've got you covered:
And here's "Jenny From the Block," for those of you who don't know what Lopez is all about:
Like I said, these songs are pretty old at this point, but that hasn't stopped Lopez from making even more incredible music videos. "El Anillo," for example:
So, Lopez's time to be recognized has definitely come, whether people like it or not. And her speech was pure fire, as everyone expected it to be. She's a music icon at this point. There's no denying it anymore.