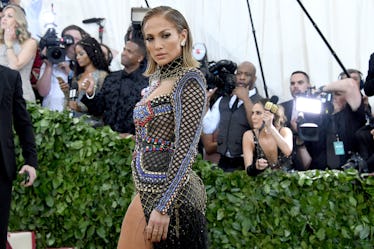 Jennifer Lopez's BBMAs Performance Was All About That Cash Money & YAS
Noam Galai/Getty Images Entertainment/Getty Images
I always look forward to the get-up-and-dance performances of the Billboard Music Awards, and this year was no different. Sunday night's show gave fans a lot to celebrate, but what fans were really looking forward to was the return of Jenny From the Block. Jennifer Lopez's 2018 Billboard Music Awards performance was just remarkable.
Lopez was joined by DJ Khaled, and while I am not to sure what he was doing on the other side of the room in a big chair watching Wall Street, Lopez was on point. She showed up on stage with a football team of backup dancers and dropped her newest hit, "Dinero." Jenny From the Block was decked out in old-Hollywood glam and sang about... well, basically being J.Lo and making bank. Cardi B (who is on the song) also joined in — on video, as she wasn't present at the awards show — giving Lopez time to go from more of a grunged-up Hollywood glam-type look to full on old gangster glam. The singer got decked out in a full 1940s-looking white pantsuit and fedora.
I was totally on my feet dancing in front of my computer shouting "Yo quiero dinero." It's really catchy.
For your viewing pleasure, here's look one:
Here's look two:
Lopez first shared the news that she would be performing at the Billboard Music Awards after a May 9 appearance on the TODAY show, where she stopped by to talk about her new single "El Anillo" (and, of course, to answer some questions about her ongoing romance with Alex Rodriguez). Right after the segment wrapped, Lopez took to her Twitter and wrote, "I'm so excited to perform at the @BBMAs! Going to be LIVE 05.20 on NBC. #JLO_BBMAs."
Lopez's 2018 Billboard Music Awards wasn't her first performance at a Billboard joint. The superstar dropped "El Anillo" during an epic performance at the 2018 Billboard Latin Music Awards on April 26. Before that, the last time Lopez performed at the Billboard Music Awards was back in 2014, when she took home the Icon Award.
"El Anillo" is a spicy little Spanish number that fans say is definitely an ode to her baseball bae Alex Rodriguez. There are definitely a few conveniently-placed baseball references to back up that theory. For instance, "Me tratas como una princesa y me das lo que pido. Tu tienes el bate y la fuerza que yo necesito," which in English means, "You treat me like a princess and give me what I ask. You have the bat and the strength I need." Bat? Lopez definitely wasn't going for subtle.
At the end of her 2018 Latin BMMAs performance, Lopez also wasn't subtle about wanting Rodriguez to put a ring on it. "El anillo pa cuando?" she asks, which translates to "When is the ring coming?" Clock is ticking, A-Rod.
I mean, I don't know why I thought the song would be a little more subtle, it's literally titled "The Ring." Unless she was going to talk about the fellowship of... I should have seen it coming.
Lopez, however, in an effort to squash the rumors that the song was urging Rodriguez to propose, told ET Online that she didn't write it herself. She said,
Listen, I didn't write this song. Somebody wrote it for me specifically, which I thought was really funny. Not because I'm thinking of doing anything like this, but because it's a funny thing and I played it for Alex and I was like, 'Are you cool with this? I think it's kind of funny.' He's like, 'Yeah, I'm totally cool with it.' So at the end of the day, it's a great song with a Brazilian funk beat to it and I just loved it. I could just see myself dancing in the video.
Sure, I get that? Looking past the baseball references, maybe it's more a kind of thing where at some point a person has to tell their partner, "sh*t or get off the pot." Which is kind of what Lopez said on The Tonight Show on May 9. She said,
It was kind of something that all women get to a point where they say, 'OK, what's up? We're good, everything's great, what's going on? Am I staying or am I [going]?
That makes sense, to me.
The former baseball player isn't looking too much deeper into the song either. Rodriguez appeared on The Tonight Show the following night and Fallon of course asked him about the not-so-subtle song lyrics. The former Yankee replied,
I know nothing about music. I read the song and I go, 'Babe, it sounds like they're talking about us.' And she goes, 'Yeah! They made it for me.' I heard it for the first time and I knew it was going to be a smash the first time I heard it.
Rodriguez also said that when he does propose, Fallon will of course be the first to know.
Lopez is definitely back in action, and I can only assume we're gonna see a few more hits from her in the near future... and maybe a proposal. But for now, this epic hit will do.