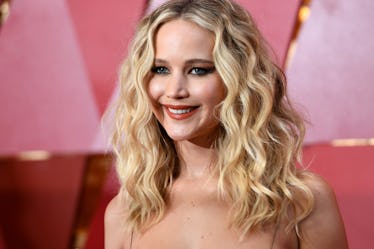 J. Law Gets Real About Having Casual Sex & She Does Not Hold Back On The Details
Kevork Djansezian/Getty Images Entertainment/Getty Images
I really hate the phrase "spirit animal," but it's pretty much the only way to describe how I feel about Jennifer Lawrence. She's real, she's raw, she's as free spirited and cool as they come, and she's not afraid to say all of the stuff most of us are thinking, but are too afraid to let fly. Basically, the girl's got major cojones. Not sure what I'm talking about? Then you probably haven't heard Jennifer Lawrence's quotes about casual sex. Her scandy soundbites from The Howard Stern Show prove she's not scared to give us all the down and dirty details, because what she said basically boils down to this: "D*ck is dangerous." And yes, I am paraphrasing here, but that choice little snippet, while taken out of context, is also a direct quote.
Lemme explain. See, the actress has been pretty open about her crush on 22-year-old Call Me By Your Name star Timothée Chalamet. Last month, she told Entertainment Tonight that he was "so, so talented and hot," that she was "buttering him up like a pig for slaughter," and that she was going to "swing right in there as soon as he's, like, 30."
I'm sure he will, Jen. I mean, what guy in his right mind wouldn't? The question is, does J. Law really want him to wait? Because now that the 27-year-old is out making the rounds while doing press for her new movie, Red Sparrow, she's starting to backpedal a little bit about actually wanting to score with her boy crush.
"I am all bark and no bite," she admitted to Howard. "I always talk like I want d*ck, but the truth is, when I look back at my sexual past it was always with boyfriends. I talk like I like it, but I don't really do it."
Wondering why? It turns out our girl is a pretty big germaphobe! "I have made it this far without an STI," she explained. "D*ck is dangerous. If I was at the point where I could get an STI, doctors have already been involved. That is how much of a germaphobe I am."
I totally feel this. Anyway, Lawrence didn't stop talking about sex there. She also copped to the fact that, shockingly, she hasn't gotten any in a very long time — and not by choice. "I would like to have a relationship, you know," she explained. "It is hard out there."
My brain is exploding with puns right now but I'm just going to let it pass — kind of like Lawrence did when she skipped passed reporters on the red carpet before the March 4 Oscars ceremony.
The move was totally out of character for her, since she's always good for a spirited quote or for making some kind of hilarious scene. Remember that time she photobombed SJP and her massive headdress at the 2013 Met Ball?
And who could forget when she told Taylor Swift she was gonna push her down the stairs at the 2014 Golden Globes?
Classic moments, both of them! But just because Lawrence blew off the carpet at this year's Academy Awards doesn't mean we didn't get any awesome scenarios out of her. Just check out the way she gamely hitched up her dress and climbed over the seats in the Dolby Theater while balancing a glass of wine in her hand.
Girl's got some major skills! And if that isn't just the epitome of IDGAF right there, then I don't know what is. Like I (almost) said before, J. Law is my spirit animal. And she's totally looking to get some, you guys! Line starts to the right.