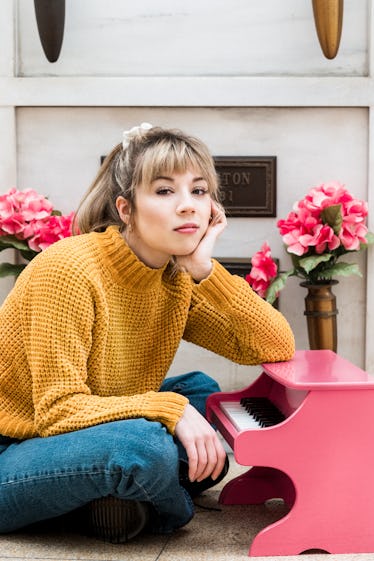 Jennette McCurdy's One-Woman Show Reveals A New Side Of The Actress
Mandee Johnson
Jennette McCurdy isn't afraid to admit life isn't perfect. From 2007 to 2014, McCurdy portrayed the sassy Sam Puckett on Nickelodeon's hit shows iCarly and Sam & Cat. At the time, her "perfect" child-star image was all that her fans saw, and no one would have guessed she was dealing with some major challenges behind the scenes. Now, Jennette McCurdy's opening up about her Nickelodeon past, her experience battling an eating disorder, and her emotions tied to her mother's death.
On Feb 25, McCurdy launched a one-woman show called I'm Glad My Mom Died. In the show, McCurdy recounts her experiences dealing with her mother, Debra's, death from cancer in 2013, and how she didn't have the emotional tools to deal with the tragedy because of her child-star upbringing. McCurdy turned to alcohol before ultimately quitting acting in 2016, something else she explores in the show.
"I had to kind of fight the demons on my own time," McCurdy says. "I went dark. I went off of social media. I quit acting. I had to make these pretty big life decisions in order to deal with my stuff, my life."
McCurdy credits "a lot of therapy" for her ability to revisit these hardships in 2020. "I felt like I was able to get back out there and start writing and directing my own projects... once I was at a place where I had any level of authority to speak on these things because I had come out the other end," she says.
The idea of getting on stage in front of an audience wasn't something McCurdy was looking forward to at first. "[I was] thinking, 'Maybe I'll have a different friend do the show every night and wear a wig,'" she says. "And then I realized that was a terrible idea and that the only person who could do the one-woman show was me. It had to come from me. It's so personal. There's no other choice. And I actually wound up really enjoying the experience of performing ... it's kind of reignited my passion for performing."
Finding joy in performing again is major for McCurdy, who came to resent her work as an actress on iCarly and Sam & Cat. In a March 2019 personal essay for The Huffington Post, McCurdy explained why being a "role model" for kids made her upset. McCurdy wasn't satisfied with her "great contribution" to society being "walking onto an over-lit Nickelodeon set shouting lines about fried chicken." Even now, McCurdy hasn't completely accepted that part of her career.
"I'm not fully there yet," she says. "I still have complicated feelings toward my past from my experience with Nickelodeon. It's something that I work on. I'd like to get to a place of peace with my past. That would be great."
Coming to terms with her past success is something McCurdy wants to work on, but dealing with other issues took priority over the years. "I had to come to peace with [my mom's death] first," she says. "And then it's like, 'OK, now I can kind of get [to other things].' I had to fix the eating disorder, and now I can kind of get to the other stuff. It was a little bit lower on the priority list but it's now more of a priority."
If there's one positive McCurdy took away from her time on Nickelodeon, she says it's "lifelong" friendships with her castmates.
"I would not have such an enjoyable life if these people weren't in it," she says of her former costars Miranda Cosgrove, Nathan Kress, Jerry Trainor, and Noah Munck, as well as some of the crew. "The human connections you have with people is always what determines whether, ultimately, something is a good or bad experience."
McCurdy's I'm Glad My Mom Died is currently postponed due to the coronavirus pandemic, but updates can be found on her Instagram page and website.
If you think you're showing symptoms of coronavirus, which include fever, shortness of breath, and cough, call your doctor before going to get tested. If you're anxious about the virus's spread in your community, visit the CDC for up-to-date information and resources, or seek out mental health support. You can find all Elite Daily's coverage of coronavirus here.