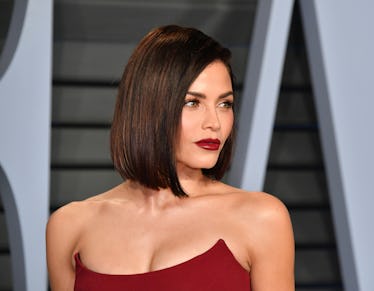 Jenna Dewan Reportedly Had A Chill Reaction To Channing Tatum & Jessie J Dating Rumors
Dia Dipasupil/Getty Images Entertainment/Getty Images
Few people are probably thrilled to see their long-term ex move on. And I'm just speaking from the point of view of a regular, non-famous person. I mean, can you imagine being a celebrity going through an extremely public split and having to see the details of your ex's new relationship with a younger woman who looks suspiciously like you everywhere you turn? Well, that's the reality of one particular A-lister and, let me tell you, she's handling it much better than I would. Jenna Dewan's reported reaction to Channing Tatum reportedly dating Jessie J could not be more calm, cool and collected.
OK, so here's the scoop. In case you missed it, rumors have recently started swirling about regarding a potential relationship between Channing Tatum and pop star Jessie J. According to Us Weekly, Tatum was spotted at not one but two of J's shows in different cities across the country earlier this month.
"They've been hanging out a lot lately and he's excited about seeing her," another source told E! Online. "She's on the road, but he is very interested in getting to know her and doesn't mind tagging along."
OK, so, if I was Dewan, I would be freaking out. Even if I wasn't totally freaking out, I would at the very least be annoyed by having to constantly be confronted by images of my ex and this other women who really looks a lot like me every time I scrolled through social media or tried to read a magazine at a nail salon.
But, alas, Dewan is far cooler than I am. While fans of the former couple may have been taken off guard, Dewan reportedly totally saw the new relationship coming. "Jenna knew that Channing was dating and it wasn't a surprise," a source told E!. "A friend had told her what was going on." (Elite Daily has reached out to all three stars' reps.)
So... she knows what's going on because she presumably does not live under a rock. But is she cool with it? Apparently, yes. The same source also revealed that Dewan "doesn't really care what Channing does as long as he's being there for [their daughter] Everly. Jenna's dating too and they are both moving on with their lives."
Dewan has consistently made it clear that changing the stigma surrounding divorce and raising her daughter in a loving, drama-free environment is her primary concern. "They split because they knew they shouldn't be together anymore, and they've both moved on and are fine with their lives now," an insider told Us Weekly last week. "They're both dating other people and are both doing just fine with it, and they are co-parenting Everly the best anyone could ever ask for."
In an interview with Women's Health magazine this past July, Dewan opened up about the divorce and reiterated the fact that the split was the best decision for their family. "It's been a transformation of myself — my needs and wants as a woman," she said. "I think everyone wants to hold on to what's in front of them, but when you open your mind, saying, 'I want what's best for myself and my daughter,' you have to be OK with however that looks."
She added:
It's OK for a relationship to change into a new form that is actually better for both people involved, and I think that's maybe what shocked everyone so much — that it can be a positive thing. That was ultimately what happened with us.
Here's to hoping we all learn a thing or two from Dewan and Tatum about how to look at divorce from a new perspective.
Check out the "Best of Elite Daily" stream in the Bustle App for more stories just like this!