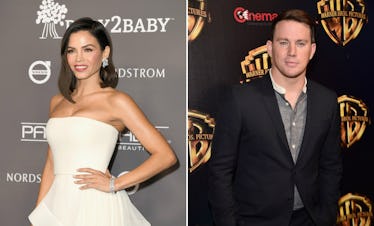 Jenna Dewan & Channing Tatum's Daughter's Christmas List Is Too Adorable, I Can't
Emma McIntyre/Alberto E. Rodriguez/Getty Images Entertainment/Getty Images
I don't know which was more fun for me as a kid: receiving gifts on Christmas morning, or flipping through all of the toy store catalogs to make my Christmas list for Santa in the weeks leading up to the big day. Now, as a (somewhat) grown adult, my priorities have changed slightly, but it's still so fun to see the children of friends and family members make their list to send to Santa, and apparently, celebrity kids are no different. Case in point: Jenna Dewan and Channing Tatum's daughter's wish list, which will fill you with so much nostalgia that it might even inspire you to write to Santa again.
The former couple's 5-year-old daughter, Everly, clearly knows what she wants for the upcoming holiday season, and had a bunch of requests for the guy who comes down the chimney to fill your home with presents (some may know him as Santa Claus).
Jenna Dewan took to Instagram on Tuesday, Nov. 27, to show her fans Everly's letter to Santa, which boasts a ton of items that I'm honestly considering for myself. Most likely dictated by Everly and transcribed by Dewan, the letter starts off by requesting things like a flying fairy, a butterfly princess Barbie, a princess vacuum, a fairy playhouse for the fairy garden and a fairy wand that talks to you. She also requests rainbow wings — BIG ONES, because otherwise, what's the point? And the big rainbow wings aren't to be confused with "cozy wings," ok? Big difference.
I mean, this girl just gets it.
But fret not, Santa! Everly doesn't want to tell you everything specific thing she's hoping for! She also noted that Santa can surprise her with a board game and "a few surprises that are fairy, unicorn, mermaid, princess things."
I honestly feel like I have so much in common with a 5-year-old that it's actually kind of scary.
Of course, Everly's abstract-yet-gorgeous signature is at the bottom of the list (Santa would get very confused otherwise), and Dewan herself captioned the photo, "Got that Santa?" with several holiday emojis, because she knows that children's Christmas lists can also act as thinly veiled threats to making sure they get what they want.
KIDDING! Of course I'm kidding. Fine, I'm only sort of kidding.
If you're wondering where Everly gets her incredible taste in gifts from, look no further than mom Jenna Dewan's Instagram, which basically teaches her daughter that life should always be made up of all-things magical:
Here's Jenna Dewan dressed up as a stunning Halloween fairy:
Is it me, or does Dewan look like Tinkerbell IRL?
And here she is again, dressed as a Halloween unicorn:
The hair, the makeup, the horn... Dewan nailed this ~lewk~ for sure.
Also, can we please just talk about this fantastic butterfly pool float she's chilling on?
If you click past the first picture, you'll see Everly makes a fantastic cameo in the "reality" part of Dewan's caption, "Instagram vs. reality."
And last, but certainly not least, check out their very magical Christmas tree being decorated by Everly herself:
Those lights! Those ornaments! Proof that, while fairies and unicorns are certainly magical, there's nothing more magical than the holiday season.
Here's hoping that Everly gets everything on her wish list!