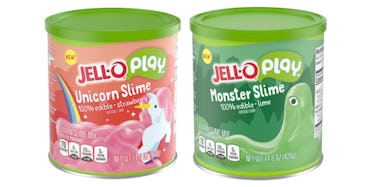 Those Slime Videos Are Taking Over, Because Jell-O Just Came Out With An Edible Version
Remember when all of those slime videos were taking over the internet? Well, now Jell-O is kicking things up a notch and releasing a version of the gooey stuff that you can eat. Jell-O Play is selling edible slime in two fruit flavors. I know, it seems kind of weird to eat slime. This stuff actually looks like it could be good. Here's where you can pick up a can or two for yourself.
According to Jell-O Play, this is the first edible slime launched by a major company. Hopefully, you've never tried a bite of homemade slime. But it's time to give Jell-O Play's edible slime a try. The snack is only available on Amazon for a suggested retail price of $9.99 per canister, according to Jell-O Play. The latest edible slime offerings sound pretty delicious. The flavors are Strawberry-flavored Unicorn and Lime-flavored Monster. Each can contains 14.8 ounces of powdered slime. How do you eat it? It's pretty simple. All you have to do is add water to the pre-made slime mixture, and voilà. You've now got edible slime.
Currently, the slimy treats are in the pre-order phase on Amazon, per a press release from the company. This means that, while you can still place an order, you won't receive it right away. Although, I tried to order a can for myself and Amazon says the item is unavailable right now. Since I was unable to preorder the edible slime, I signed up for an email alert to notify me when the products are ready to be ordered.
You might be wondering about the quality of this slime. I'm happy to report that edible slime seems to be just as much fun as regular slime. It stretches when you pull it slowly, but it will snap in half if you pull it apart too fast, according to the Jell-O Play. The gooey stuff can also conform to any shape and be poured like a liquid. I would definitely recommend washing your hands before you play with Jell-O Play's edible slime.
There are more than 20 million slime videos on Instagram, and thousands more on YouTube, according to Jell-O. Chances are you've probably seen one or two of these videos, and maybe you've even made slime of your own. Suffice to say, it was time for someone to step up to the plate and make a version of the popular product.
You know when you were a kid and sometimes you would sneak a bite of Play-Doh just to see what it tasted like? Jell-O Play's edible slime sort of reminds me of that exact situation. It's like you want to try a bite, but you know you shouldn't (and you know it probably doesn't taste great). Jell-O Play is taking the wonder out of what slime tastes like and infusing it with two fruity flavors. I wouldn't recommend eating the slime you make with borax, but the latest one-of-a-kind offerings from Jell-O Play should be able to fill that void for you.